Dear Friend,
I am pleased to send you this edition of my electronic newsletter. These e-newsletters enable me to provide information about issues, events and activities in Harrisburg and around the 46th Senatorial District to you in a timely manner while saving postage costs.
If you find this e-newsletter useful, I invite you to visit my website www.senatorbartolotta.com for more information about your state government. You can also keep up to date through Facebook (www.facebook.com/senatorbartolotta) and Twitter (www.twitter.com/senbartolotta).
If you do not wish to receive these e-newsletters, please click the "unsubscribe" button at the bottom of the page.
Sincerely,
Camera Bartolotta
---
Governor Outlines 2017-18 Spending Plan
Governor Wolf unveiled his spending plan for the 2017-18 Fiscal Year last week. The plan includes some welcome news but also areas of concern that will be studied over the next several months in order to create a budget that meets all of the responsibilities of government at the lowest possible cost to taxpayers.
One of the biggest positive elements in the Governor's budget is a stronger focus on cost savings. In previous years, Governor Wolf proposed extraordinary increases in both spending and taxes. This year, a number of short-term savings initiatives hold down the total increase in state spending. This gives us a better platform from which to build a fiscally responsible spending plan.
While there are certainly signs of encouragement, two big problems already promise to cause complications. The budget is built on nearly $300 million in new taxes on the natural gas industry, in spite of the fact that production has slowed while the industry continues to pay hundreds of millions in new taxes annually. An additional severance tax on top of the current impact fee paid by natural gas companies is simply bad public policy and does nothing to help create jobs and support the responsible development of our natural resources.
Rather than chasing these jobs away, I am encouraging Governor Wolf to end the current moratorium on natural gas extraction in state forest lands. This approach makes far more economic sense than imposing additional taxes on an industry that is already trudging through a period of stunted production and low natural gas prices.
The other red flag in the Governor's spending proposal is the absence of any plan to curtail the growth in pension costs. Public employee pensions account for nearly half of the growth in state spending in Governor Wolf's budget, but the plan offered no solutions to deal with the problem. Addressing these long-term costs is every bit as important as studying the Governor's plan for short-term savings.
More information on Governor Wolf's spending proposal and my reaction to his ideas are available here and here.
---
The Senate and House Gas and Oil Caucuses held a meeting last week with industry leaders to learn more about the opportunities and challenges associated with transforming our state's economy.
---
Legislation Would Expand Practice Authority for Nurse Practitioners
This week, I introduced a bill that would help expand health care options in rural communities by allowing nurse practitioners to use the full extent of their knowledge and training to help patients.
In current practice, certified nurse practitioners can only serve patients under collaborative agreements with physicians. My legislation would allow them to serve patients independently in their area of specialty after they fulfill a three-year, 3,600-hour collaborative agreement.
Many rural communities suffer from a serious lack of available health care options, and the recent expansion of Medicaid will only increase demand for services. Certified nurse practitioners are uniquely positioned and qualified to help meet this need and expand access to quality health care services.
---
Transportation Committee Examines Project Delivery and Opportunities for Small Businesses
The Senate Transportation Committee held a hearing last week to examine issues related to project delivery. I appreciated the opportunity to offer testimony to talk about one of the issues that prevents qualified small businesses from participating in the bidding process for state contracts.
In many cases, smaller construction firms are prevented from bidding on state contracts due to the prohibitive cost of preparing financial statements as part of the Pennsylvania department of Transportation's pre-qualification process. I introduced a measure in the previous legislative session that would correct this problem by modernizing the types of financial statements required by small businesses to qualify to bid on projects totaling less than $1 million.
Video and additional information from the hearing is available here.
---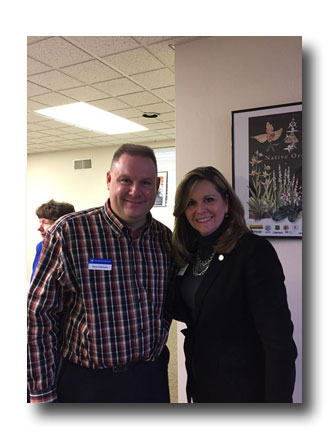 I appreciated the chance to learn more about work that the Penn State extension has been doing and what is being planned for 2017 during the Penn State Extension - Beaver County breakfast. Bryan Dickinson, Interim District Director for Beaver, Butler, and Lawrence Counties, was one of the participants at the event.
---
Legislative Update
In addition to beginning the process of examining Governor Wolf's budget proposal, the Senate approved a number of noteworthy bills last week, including:
Senate Bill 3, which amends the Abortion Control Act to reduce the maximum gestational age for legal abortions from 24 to 20 weeks and prohibits dismemberment abortion.
Senate Bill 10, which discourages municipalities from ignoring federal detainer requests for illegal aliens who are arrested for committing other crimes.
Senate Bill 166, which ensures that political campaign funds are not collected by public sector unions through government-provided mechanisms with taxpayer resources.
Senate Bill 170, which requires comprehensive reform measures at the Delaware River Port Authority.
Senate Bill 181, which establishes a performance-based budget component.
Senate Bill 241, which prohibits sexual discrimination in employee pay rates.
---
Washington County Farm Bureau Food Drive Is Underway
The Washington County Farm Bureau recently kicked off its 15th annual food drive benefiting the Greater Washington County Food Bank. The food drive helped collect approximately 15,600 pounds of food to help local families in need last year, and the organization has set a goal of collecting 17,000 pounds this year.
Local residents who would like to participate can find a list of collection locations at www.gwfb.org. The food drive runs through March 31.
---
For more information on issues of importance to southwestern Pennsylvania, please visit my website at www.senatorbartolotta.com and connect with me on Facebook (www.facebook.com/senatorbartolotta) and Twitter (www.twitter.com/senbartolotta).