Dear Friend,
I am pleased to send you this edition of my electronic newsletter. These e-newsletters enable me to provide information about issues, events and activities in Harrisburg and around the 46th Senatorial District to you in a timely manner while saving postage costs.
If you find this e-newsletter useful, I invite you to visit my website www.senatorbartolotta.com for more information about your state government. You can also keep up to date through Facebook (www.facebook.com/senatorbartolotta) and Twitter (www.twitter.com/senbartolotta).
If you do not wish to receive these e-newsletters, please click the "unsubscribe" button at the bottom of the page.
Sincerely,
Camera Bartolotta
---
Budget Address Scheduled for February 7
Governor Wolf will unveil his proposed 2017-18 state budget on February 7. The budget address is the first step of a months-long process of examining every state agency and every expense to determine how to best allocate the state's resources. I look forward to working with my colleagues on both sides of the aisle to review the Governor's spending proposal and work toward a final product that meets the needs of local communities.
I am hopeful that this year's budget address will offer a viable starting point for negotiations. In each of the past two years, Governor Wolf's budget proposal called for some of the largest tax increases in Pennsylvania's history while doing little to control costs. There is some hope that the Governor will reverse course this year and suggest certain changes to make government operate more efficiently, rather than asking taxpayers for billions in new income and sales taxes.
If Governor Wolf is serious about promoting government efficiency, improving the delivery of services and reducing costs to taxpayers, I will certainly work with him toward those goals. I will share more of my thoughts regarding his proposal after I have had a chance to review it next week.
---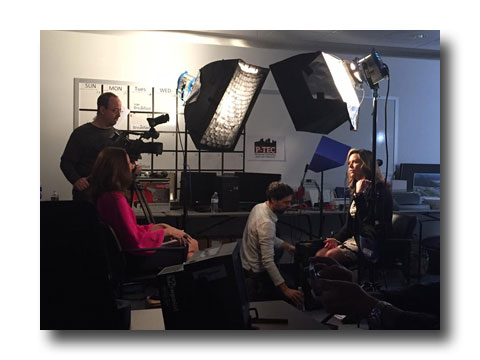 I appreciated the chance to discuss what we're doing to better protect victims of domestic abuse during an interview with Kim Goldman. The interview will be used in an upcoming episode of the TV show Crime Watch.
---
Thanks to Telephone Town Hall Participants
A special thanks goes out to all of the community residents who participated in my most recent telephone town hall event this week. I appreciated the chance to hear your perspectives on a wide variety of issues, including steps to address the heroin and opioid addiction crisis and ongoing concerns about the unfair and archaic school property tax.
Your feedback is extremely helpful to me. For those who did not have an opportunity to share their thoughts and concerns, I encourage you to email me, contact one of my offices, or send me a message on my website at www.senatorbartolotta.com.
---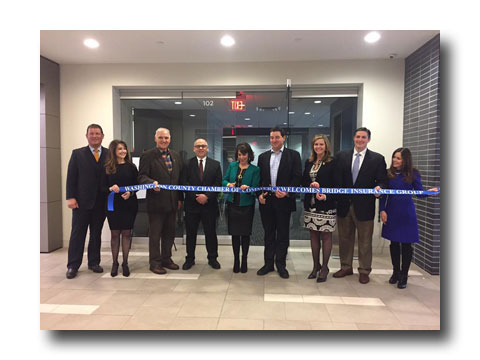 I enjoyed the opportunity to join other community leaders in celebrating the ribbon cutting ceremony hosted by the Bridge Insurance Group to mark the grand opening of its new facility in Southpointe.
---
Six Bills Reintroduced, Four New Proposals Advanced for New Session
While a number of the bills I introduced in my first two-year session were signed into law, several never made it all the way through the legislative process. Over the past several weeks, I have reintroduced six bills from the previous session in order to keep these issues part of the conversation in Harrisburg.
The bills include:
Senate Bill 173, a proposed Constitutional amendment that would limit the future growth in state government spending.
Senate Bill 174, legislation that would enact tougher penalties against drug dealers whose illegal products cause serious bodily injury.
Senate Bill 179, a proposal to create a voluntary registry of participating hospitals to help match patients in need of mental health care to facilities with an open bed.
Senate Bill 200, a bill that would expand early intervention services for infants and mothers who suffer from postpartum depression.
Senate Bill 224, legislation to eliminate a duplicitous, expensive, unreliable and unnecessary extra state background check system for firearms purchases.
Senate Bill 239, a proposal to expand the Property Tax Exemption Program for Disabled Veterans.
In addition, I plan to introduce four new bills in the current session:
Tierne's Law, legislation to give the courts additional tools to protect domestic violence victims.
A proposal to modernize Pennsylvania's Professional Nursing Law for Advanced Practice Registered Nurses.
Legislation to promote a more patient-centered focus in the treatment of opioid addiction.
A bill to allow summer camps, colleges and universities, restaurants, amusement parks, sports arenas and daycare centers to voluntarily provide epinephrine injectors for visitors.
---
Town Hall Event Will Highlight Postpartum Depression Legislation
Earlier this week, I reintroduced legislation that would provide critical support services to infants and mothers who are affected by postpartum depression (PPD), a condition that is estimated to impact more than one in seven mothers nationwide. On March 2, I look forward to joining local health care experts and advocates for a town hall meeting in Washington to discuss the need to better monitor families that are affected by this condition.
The town hall will be held at noon in the Cameron Wellness Center, located at 240 Wellness Way in Washington. The event will hosted by The Campaign For What Works and its community partners as part of the #StrongMomStrongBaby campaign.
I hope you can join me for this informative event and contribute to the conversation about how we can help mothers and babies affected by PPD receive the care they need.
---
For more information on issues of importance to southwestern Pennsylvania, please visit my website at www.senatorbartolotta.com and connect with me on Facebook (www.facebook.com/senatorbartolotta) and Twitter (www.twitter.com/senbartolotta).
Offices
Harrisburg Office
Senate Box 203046
Harrisburg, PA 17120-3046
Phone: 717-787-1463
Fax: 717-772-2108
M-F: 8:30 am – 5:00 pm
SouthPointe District Office
135 Technology Drive
Suite 202
Canonsburg, PA 15317
Phone: 724-746-3762
Fax: 724-746-3797
M-F: 9 am – 5 pm
Greene County Office Building
93 East High Street
Suite 308
Waynesburg, PA 15370
Phone: 724-627-9802
Fax: 724-627-5066
M-W-F: 8:30 am – 4:30 pm
Monongahela Office
316 West Main Street
Monongahela, PA 15063
Phone: 724-258-3365
Fax: 724-258-3368
M-Th-F: 8:30 am – 4:30 pm
Satellite Office
Hopewell Twp. Building
1700 Clark Boulevard
Aliquippa, PA 15001
2nd Monday of Month:
10 am - 4 pm