Dear Friend,
I am pleased to send you this edition of my electronic newsletter. These e-newsletters enable me to provide information about issues, events and activities in Harrisburg and around the 46th Senatorial District to you in a timely manner while saving postage costs.
If you find this e-newsletter useful, I invite you to visit my website www.senatorbartolotta.com for more information about your state government. You can also keep up to date through Facebook (www.facebook.com/senatorbartolotta) and Twitter (www.twitter.com/senbartolotta).
If you do not wish to receive these e-newsletters, please click the "unsubscribe" button at the bottom of the page.
Sincerely,
Camera Bartolotta
---
Telephone Town Hall Coming Up on January 30
The date of my next telephone town hall event is quickly approaching. I hope you can join me for a conversation about what is happening in local communities and some of the biggest issues facing lawmakers during the live event on January 30 at 6 p.m.
Complete details about the event and registration info is available online at http://www.senatorbartolotta.com/tele-town-hall/.
---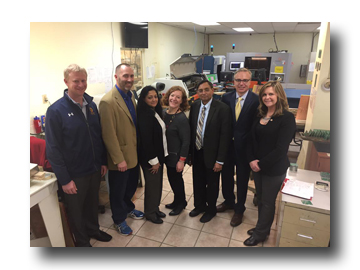 I appreciated the opportunity to tour SMG Global Circuits in Washington and attend a manufacturing showcase hosted by Innovation Works.
---
New Website Offers Information on PA ABLE Savings Program
The Pennsylvania Treasury launched a new website last week that offers quick and easy access to information on the Achieving a Better Life Experience (ABLE) Savings Program. The program helps individuals who have a disability save money for housing, education, transportation, medical and other expenses without risking the loss of government benefits.
PA ABLE is modeled after the successful TAP 529 college savings program, which allows individuals and families to save money for higher education through the use of a tax-free account.
More information about the program is available on the new website at www.paable.gov.
---
Local Participants Shine at Pennsylvania Farm Show
Families from our area represented the region extremely well and helped showcase the best that our agriculture community has to offer at this year's Pennsylvania Farm Show. I appreciate the time spent meeting and visiting with many of our local participants, as well as statewide leaders in agriculture.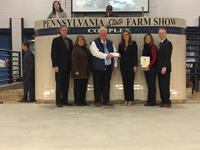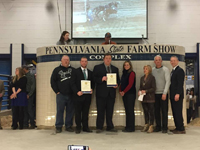 I had the pleasure of congratulating three of the 2017 Pennsylvania Farm Show Scholarship Foundation winners from Washington County. Congratulations to Lena Bioni of Claysville and brothers Scott and Nicholas Gardner of Washington!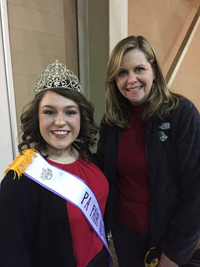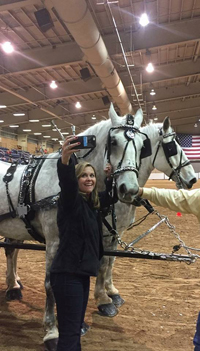 I also had the pleasure of visiting with Pennsylvania State Fair Queen Darby Kasper and participating in the Celebrity Draft Horse Driving Contest. I was fortunate enough to be sponsored by Penn Ag Industries, the leading agriculture business trade organization in Pennsylvania.
---
Assistance is Available for Unemployment Compensation Claimants
Recent upgrades to The Department of Labor's website may be able to help many claimants complete the process online without the need for phone calls.
The www.uc.pa.gov website has an alert on the homepage that directs visitors with step-by-step instructions regarding filing a claim. The site also includes information on how to check the status of a claim, set up or change a direct deposit, determine the remaining balance of benefits and more.
In addition, a direct line to UC service centers is available at PA Careerlink offices in Waynesburg and Washington. Although there is usually some wait time associated with the use of the direct line, in some cases, this delay will be shorter than the wait time when using the regular UC phone number.
I encourage anyone who is still having problems with the system to contact my office for further assistance.
---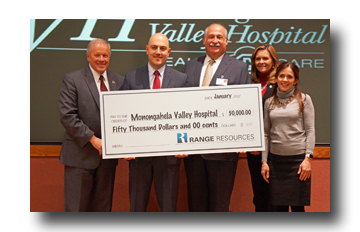 A $50,000 donation from Range Resources will help the Mon Valley Hospital upgrade its emergency room area.
---
District Offices Available to Assist Community Residents
In addition to unemployment compensation issues, my district offices in Canonsburg, Waynesburg, Monongahela and Aliquippa offer assistance with a wide range of concerns and problems pertaining to state government. If I can help with any questions regarding state government programs, services or agencies, please do not hesitate to contact me.
Some of the services offered at my district office include:
Assistance in completing Property Tax/Rent Rebate claim forms.
Information and help with problems with insurance programs, such as Medical Assistance and CHIP.
Voter registration forms.
Requests for birth and death certificates.
Fishing and hunting information.
Information on financial assistance for higher education.
Citations from the Pennsylvania Senate for notable local accomplishments and family milestones.
PennDOT forms for special tags and driver and vehicle services.
Informational brochures and booklets.
Pennsylvania Personal Income Tax forms.
Pennsylvania road maps.
Requests for copies of legislation, bills and regulations.
Requests for literature for students and senior citizens.
Arranging tours of the State Capitol for individuals or groups.
---
For more information on issues of importance to southwestern Pennsylvania, please visit my website at www.senatorbartolotta.com and connect with me on Facebook (www.facebook.com/senatorbartolotta) and Twitter (www.twitter.com/senbartolotta).
Offices
Harrisburg Office
Senate Box 203046
Harrisburg, PA 17120-3046
Phone: 717-787-1463
Fax: 717-772-2108
M-F: 8:30 am – 5:00 pm
SouthPointe District Office
135 Technology Drive
Suite 202
Canonsburg, PA 15317
Phone: 724-746-3762
Fax: 724-746-3797
M-F: 9 am – 5 pm
Greene County Office Building
93 East High Street
Suite 308
Waynesburg, PA 15370
Phone: 724-627-9802
Fax: 724-627-5066
M-W-F: 8:30 am – 4:30 pm
Monongahela Office
316 West Main Street
Monongahela, PA 15063
Phone: 724-258-3365
Fax: 724-258-3368
M-Th-F: 8:30 am – 4:30 pm
Satellite Office
Hopewell Twp. Building
1700 Clark Boulevard
Aliquippa, PA 15001
2nd Monday of Month:
10 am - 4 pm