Dear Friend,
I am pleased to send you this edition of my electronic newsletter. These e-newsletters enable me to provide information about issues, events and activities in Harrisburg and around the 46th Senatorial District to you in a timely manner while saving postage costs.
If you find this e-newsletter useful, I invite you to visit my website www.senatorbartolotta.com for more information about your state government. You can also keep up to date through Facebook (www.facebook.com/senatorbartolotta) and Twitter (www.twitter.com/senbartolotta).
If you do not wish to receive these e-newsletters, please click the "unsubscribe" button at the bottom of the page.
Sincerely,
Camera Bartolotta
---
Wishing a Merry Christmas and Happy New Year to All
The holiday season offers everyone a chance to spend time with loved ones, reflect on the events of the past year, and chart a better course forward for the year ahead. The season reminds us what really matters. What makes the greatest difference is not what we receive, but rather what we give. Regardless of what happens in the year ahead, we can all resolve to do our part to make the world a brighter and happier place.
Looking back on this past year, I am extremely grateful for all of the people I have met who are working through various community organizations and charities in order to help build and maintain stronger communities. The dedicated individuals who give their time and efforts to these worthy causes are a true inspiration, and I appreciate all of the incredible efforts to help individuals and families in need.
As we prepare to put 2016 behind us, I hope that everyone has a safe and joyous holiday season, and I look forward to working with all of you in the New Year.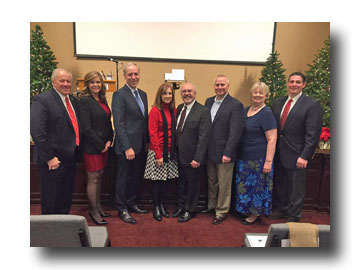 It was a privilege to take part in the grand opening of the Washington City Mission's new chapel and education center.
---
Legislation Would Better Protect Victims of Domestic Violence
Domestic violence continues to plague Pennsylvania communities, and the results of this crime can be truly catastrophic. In August, a local woman was kidnapped and murdered by her estranged husband who violated an active protection from abuse order. This tragedy exposed a number of flaws in the way state and local authorities address this serious crime, and I am dedicated to finding solutions to ensure no family has to endure the same sort of tragedy.
When the Senate reconvenes in January, I plan to introduce a bill to better protect victims of domestic violence. Tierne's Law – named in honor of local domestic violence victim Tierne Ewing – would clarify that Magisterial District Judges may use a risk assessment tool to determine whether a defendant poses a danger to a victim when determining bail in domestic violence cases.
Evidence-based risk assessments have proven to be an effective means of identifying individuals who present the greatest threat of committing a subsequent offense against their victims. The bill would ensure judges have the tools they need to make the best decision possible regarding individuals who may pose a danger to the community.
I also plan to join my colleague Senator Vince Hughes to introduce legislation to expand the use of electronic monitoring devices if a judge determines the defendant presents a substantial risk of violating a protection from abuse order. The use of electronic monitoring would not be mandatory, but rather an option for the judge to consider.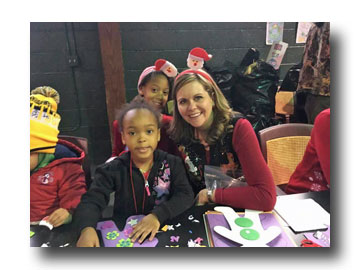 I appreciated the chance to take part in the incredible charitable effort on behalf of local families during CoCo's Christmas at the LeMoyne Center.
2017-18 Legislative Session Offers Fresh Start for Several Bills
The beginning of the 2017-18 Legislation Session offers new hope for many bills that didn't earn final legislative approval last year. In addition to introducing legislation designed to help protect domestic violence victims and a new measure to give nurse practitioners full practice authority, I plan to reintroduce several bills from the 2015-16 session, some of which include:
A proposed Constitutional amendment to limit the growth in state spending,
Legislation to toughen penalties against drug dealers when their illegal activity results in serious bodily injury,
A bill expanding early intervention services for children whose mother suffers from postpartum depression,
A measure to eliminate the duplicative and unnecessary additional state system to provide background checks for firearm purchases,
Legislation that would help connect patients with mental health treatment facilities, and
A bill that would provide greater certainty in the oil and gas permitting process.
Next Telephone Town Hall Scheduled for
January 30
Telephone town halls are a great tool to help community residents share their thoughts about what is happening in local communities and voice their opinions on the issues facing the General Assembly. My next tele-town hall will be held on January 30 at 6 p.m.
Community residents can learn more and register for the event at http://www.senatorbartolotta.com/tele-town-hall/.
---
For more information on issues of importance to southwestern Pennsylvania, please visit my website at www.senatorbartolotta.com and connect with me on Facebook (www.facebook.com/senatorbartolotta) and Twitter (www.twitter.com/senbartolotta).
Offices
Harrisburg Office
Senate Box 203046
Harrisburg, PA 17120-3046
Phone: 717-787-1463
Fax: 717-772-2108
M-F: 8:30 am – 5:00 pm
SouthPointe District Office
135 Technology Drive
Suite 202
Canonsburg, PA 15317
Phone: 724-746-3762
Fax: 724-746-3797
M-F: 9 am – 5 pm
Greene County Office Building
93 East High Street
Suite 308
Waynesburg, PA 15370
Phone: 724-627-9802
Fax: 724-627-5066
M-W-Th: 8:30 am – 4:30 pm
Monongahela Office
316 West Main Street
Monongahela, PA 15063
Phone: 724-258-3365
Fax: 724-258-3368
M-Th-F: 8:30 am – 4:30 pm
Satellite Office
Hopewell Twp. Building
1700 Clark Boulevard
Aliquippa, PA 15001
2nd Monday of Month:
10 am - 4 pm