Dear Friend,
I am pleased to send you this edition of my electronic newsletter. These e-newsletters enable me to provide information about issues, events and activities in Harrisburg and around the 46th Senatorial District to you in a timely manner while saving postage costs.
If you find this e-newsletter useful, I invite you to visit my website www.senatorbartolotta.com for more information about your state government. You can also keep up to date through Facebook (www.facebook.com/senatorbartolotta) and Twitter (www.twitter.com/senbartolotta).
If you do not wish to receive these e-newsletters, please click the "unsubscribe" button at the bottom of the page.
Sincerely,
Camera Bartolotta
---
Full Practice Authority for Nurses Will Help Expand Health Care Options in Rural Communities
Access to affordable quality health care is a serious concern in many local communities. The recent expansion of Medicaid will likely make the problem even more serious in communities that already don't have enough physicians to meet the growing demand for services.
To address this looming problem, I recently announced plans to introduce a bill that would modernize Pennsylvania's nursing laws to allow advanced practice registered nurses to provide a wider variety of services.
Research shows that nearly 35 percent of Pennsylvanians live in an area or population group with inadequate primary care access. There simply are not enough physicians practicing in smaller communities. Experienced certified nurse practitioners are uniquely suited to fill that need.
Nurse practitioners already play a critical role in the delivery of health care services. However, current laws place too many restrictions on the ability of nurse practitioners to help patients. Removing these restrictions and allowing nurses to provide all of the services they have been trained to offer will expand access to care and lead to better patient outcomes.
The Senate approved similar legislation earlier this year, but the bill stalled in the House of Representatives. I am hopeful that we can continue to make progress on this issue in 2017 and finally give nurse practitioners the ability to put all of their knowledge, experience and training to work in local communities.
More information about my proposal is available here.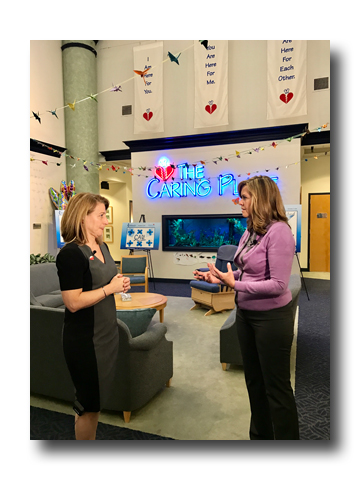 My thanks go out to Terese Vorsheck, Director of the Highmark Caring Place in Pittsburgh, for taking the time to speak with me about the wonderful support services that are available for grieving children and their families who have lost a loved one.
---
Deadline Approaching for Property Tax and Rent Rebates
The deadline to apply for the state's Property Tax Rent Rebate Program is December 31. The program provides financial assistance to low-income seniors and disabled individuals by refunding a portion of rent or property taxes paid during the previous year.
Information and applications for the Property Tax Rent Rebate Program are available online at www.revenue.state.pa.us or by calling toll-free 1-888-222-9190. Property Tax Rent Rebate claim forms and more information are also available at my district offices in Canonsburg, Waynesburg, Monongahela and Aliquippa.
TV Show Features Popular Charleroi Toymaker
The December edition of my "Focus on the 46th" TV show features a tour of Channel Craft, a long-time manufacturer of wooden toys in Charleroi. The show features a behind-the-scenes look at the company's facility and some of the specialty toys and puzzles that have helped make the business a success.
The show is available here.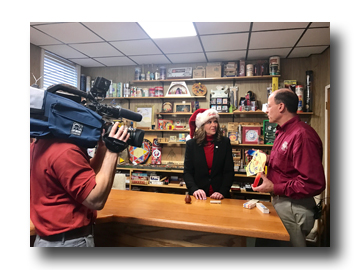 I enjoyed getting into the holiday spirit during my tour of Channel Craft with company President Dean Helfer, Jr.
LIHEAP Application Period Open Through End of March
Local families who are experiencing a heating emergency or are struggling to pay winter heating bills can apply for the state's Low-Income Home Energy Assistance Program (LIHEAP). The program, which will remain open through the end of March, offers cash grants sent directly to the utility company to help pay heating bills, as well as crisis grants for households in immediate danger of being without heat due to heating emergencies such as a broken furnace, fuel shortage or utility service shutoff.
Community residents can apply for LIHEAP online at COMPASS. They can also contact their local county assistance office or call the LIHEAP hotline at 1-866-857-7095, Monday through Friday (individuals with hearing impairments may call the TTY number at 1-800-451-5886).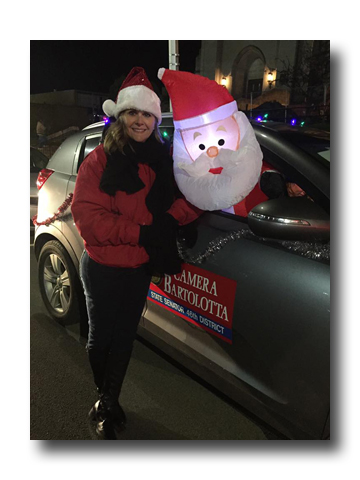 I appreciated the chance to take part in the Downtown Washington Christmas Parade last weekend.
Vehicle Registration Stickers No Longer Required After December 31
Beginning December 31, 2016, PennDOT will no longer issue vehicle registration stickers. While stickers will no longer be required, drivers will still need to renew vehicle registration annually and present the card when requested by police and at safety inspections. Police will be able to verify registration electronically.
Eliminating the stickers is expected to save taxpayers more than $1 million each year. More information is available by visiting PennDOT's website at http://www.dmv.pa.gov/VEHICLE-SERVICES/Title-Registration/Pages/Registration-Stickers.aspx#.V1g-72bD-Uk .
---
For more information on issues of importance to southwestern Pennsylvania, please visit my website at www.senatorbartolotta.com and connect with me on Facebook (www.facebook.com/senatorbartolotta) and Twitter (www.twitter.com/senbartolotta).
Offices
Harrisburg Office
Senate Box 203046
Harrisburg, PA 17120-3046
Phone: 717-787-1463
Fax: 717-772-2108
M-F: 8:30 am – 5:00 pm
SouthPointe District Office
135 Technology Drive
Suite 202
Canonsburg, PA 15317
Phone: 724-746-3762
Fax: 724-746-3797
M-F: 9 am – 5 pm
Greene County Office Building
93 East High Street
Suite 308
Waynesburg, PA 15370
Phone: 724-627-9802
Fax: 724-627-5066
M-W-Th: 8:30 am – 4:30 pm
Monongahela Office
316 West Main Street
Monongahela, PA 15063
Phone: 724-258-3365
Fax: 724-258-3368
M-Th-F: 8:30 am – 4:30 pm
Satellite Office
Hopewell Twp. Building
1700 Clark Boulevard
Aliquippa, PA 15001
2nd Monday of Month:
10 am - 4 pm