Dear Friend,
I am pleased to send you this edition of my electronic newsletter. These e-newsletters enable me to provide information about issues, events and activities in Harrisburg and around the 46th Senatorial District to you in a timely manner while saving postage costs.
If you find this e-newsletter useful, I invite you to visit my website www.senatorbartolotta.com for more information about your state government. You can also keep up to date through Facebook (www.facebook.com/senatorbartolotta) and Twitter (www.twitter.com/senbartolotta).
If you do not wish to receive these e-newsletters, please click the "unsubscribe" button at the bottom of the page.
Sincerely,
Camera Bartolotta
---
Veterans Day Commemorations Held Throughout the Region
Veterans Day offers a unique opportunity for communities to gather together and honor the service and sacrifice of those who have served our nation. I had the honor of participating in several local events to recognize our veterans and pay tribute to their incredible efforts to protect our country and defend freedom across the globe.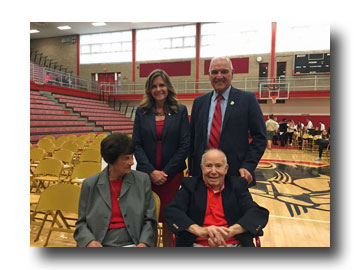 It was an honor to take part in a Veterans Day event hosted by the Charleroi School District with special recognition to Mr. Pete DeRose, a WWII veteran and POW.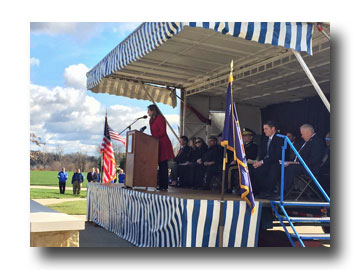 I was humbled to offer remarks at the National Cemetery of the Alleghenies Veterans Day ceremony.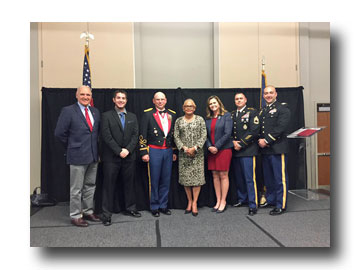 I also attended the 43rd Annual Veterans Day ceremony and dinner hosted by California University, where Cal U alum and decorated soldier Lt. Col. Jon Brierton served as the guest speaker.
---
General Assembly Approves Measures to Benefit Veterans
Lawmakers approved several bills during the final weeks of the 2015-16 Legislative Session aimed at supporting the brave men and women who have served our nation. Some of the bills approved and signed into law in the past several weeks include:
Act 110 of 2016, which extends the death benefit that is currently available to other emergency responders to members of the Pennsylvania Civil Air Patrol.
Act 135 of 2016, which provides an exemption for the payment of a state business fee for a veteran-owned small business.
Lawmakers also sent to the Governor House Bill 192, which requires the state Civil Service Commission to advertise the veterans' preference on all of the commission's examination materials, announcements and advertisements, and on the commission's website.
In addition, a number of bills were signed into law earlier in the current legislative session.
Act 11 of 2015 provides in-state tuition rates at community colleges and state-related/state-owned institutions of higher learning for veterans, their spouses and dependent children.
Act 17 of 2015 authorizes the special "Honoring Our Veterans" license plate for motorcycles.
Act 18 of 2015 allocates a portion of the funds raised through sales of "Honoring Our Veterans" motorcycle license plates to the Veterans Trust Fund to assist veterans in need.
Act 23 of 2015 ensures that a veteran's military education and training are given strong consideration for the purpose of fulfilling requirements for professional credentials.
Act 32 of 2015 sets fines and penalties for those who falsely claim to be a veteran on their Pennsylvania driver's license application.
Act 50 of 2015 extends the deadline for Pennsylvania veterans to apply for the Persian Gulf Conflict Veterans' Bonus to August 31, 2018.
Act 82 of 2015 standardizes the term "other than dishonorable" when dealing with a veteran's eligibility for programs and benefits, eliminating confusion as to state benefits eligibility.
Act 83 of 2015 codifies the standards for the promotion for the Pennsylvania National Guard and ensures compliance with U.S. Army and U.S. Air Force uniform regulations.
Act 6 of 2016 provides an Earned Income Tax exemption for active duty military pay.
Act 42 of 2016 adds a representative from the Korean War Veterans Association to the State Veterans Commission, a panel comprised of representatives from Pennsylvania's major veterans associations.
Act 61 of 2016 increases the minimum active duty pay for Pennsylvania National Guard personnel from $75 to $100 per day.
Act 81 of 2016 removes the sunset date of June 30, 2016 from the "State Military College Legislative Appointment Initiative," which allows members of the General Assembly to appoint annually an eligible student from their legislative districts.
Act 84 of 2016 adds a definition of "veteran" to the Job Creation Tax Credit and provides that a new job filled by a veteran may qualify for a tax credit up to $2,500.
---
For more information on issues of importance to southwestern Pennsylvania, please visit my website at www.senatorbartolotta.com and connect with me on Facebook (www.facebook.com/senatorbartolotta) and Twitter (www.twitter.com/senbartolotta).
Offices
Harrisburg Office
Senate Box 203046
Harrisburg, PA 17120-3046
Phone: 717-787-1463
Fax: 717-772-2108
M-F: 8:30 am – 5:00 pm
SouthPointe District Office
135 Technology Drive
Suite 202
Canonsburg, PA 15317
Phone: 724-746-3762
Fax: 724-746-3797
M-F: 9 am – 5 pm
Greene County Office Building
93 East High Street
Suite 308
Waynesburg, PA 15370
Phone: 724-627-9802
Fax: 724-627-5066
M-W-Th: 8:30 am – 4:30 pm
Monongahela Office
316 West Main Street
Monongahela, PA 15063
Phone: 724-258-3365
Fax: 724-258-3368
M-Th-F: 8:30 am – 4:30 pm
Satellite Office
Hopewell Twp. Building
1700 Clark Boulevard
Aliquippa, PA 15001
2nd Monday of Month:
10 am - 4 pm