Dear Friend,
I am pleased to send you this edition of my electronic newsletter. These e-newsletters enable me to provide information about issues, events and activities in Harrisburg and around the 46th Senatorial District to you in a timely manner while saving postage costs.
If you find this e-newsletter useful, I invite you to visit my website www.senatorbartolotta.com for more information about your state government. You can also keep up to date through Facebook (www.facebook.com/senatorbartolotta) and Twitter (www.twitter.com/senbartolotta).
If you do not wish to receive these e-newsletters, please click the "unsubscribe" button at the bottom of the page.
Sincerely,
Camera Bartolotta
---
Lawmakers Send Transportation Network Company Bill to the Governor
Transportation Network Companies (TNCs) like Uber and Lyft are revolutionizing the way that many transportation needs are met in communities throughout the state. The ability for consumers to arrange transportation services through the use of a digital network promises a level of convenience that has never been available before, while at the same time opening up new economic opportunities for drivers.
This week, lawmakers gave final approval to my legislation that would establish a permanent regulatory framework for the operation of TNCs in every community in Pennsylvania. The bill ensures these companies can continue to operate with the necessary safeguards to protect passengers, including stringent background checks for drivers and requirements for adequate insurance coverage.
I am thankful that the governor has signaled his support for the bill, and I expect the measure to be signed into law in the coming days. More information on the bill, including audio and video of my remarks on the Senate floor, is available here.
---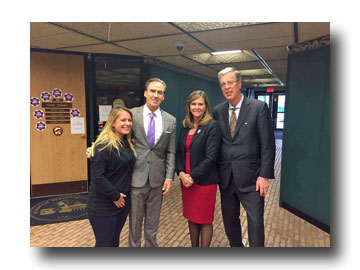 Lieutenant Governor Mike Stack and Secretary Gary Tennis of the Department of Drug and Alcohol Programs joined me last week for a Pathway to Pardons event to help community residents learn more about the process to apply for and receive a pardon.
---
Several Bills Addressing Opioid Crisis Receive Final Legislative Approval
Finding ways to combat the deadly heroin and opioid epidemic has been a point of emphasis for the General Assembly during the current legislative session. In addition to adding an additional $15 million in the budget to combat addiction, lawmakers recently sent a number of opioid-related bills to the governor's desk to be signed into law.
One of these measures mirrors legislation I sponsored in the Senate. House Bill 1699 creates the Safe Emergency Prescribing Act and limits the quantity of opioids which may be prescribed to a patient seeking treatment in a hospital emergency department or urgent care center.
Other bills passed by lawmakers to address the crisis include:
Senate Bill 1202, which requires licensed medication dispensers and prescribers to receive two hours of continuing education in pain management or in the prescribing practices of opioids.
Senate Bill 1367, which limits the amount of opioids that children may be prescribed, with reasonable exceptions for cases involving chronic pain, cancer treatment or for palliative care or hospice care. Parental consent would also be required.
Senate Bill 1368, which implements the Safe Opioid Prescribing Curriculum in all of Pennsylvania's medical schools.
The addiction crisis is extremely complex, and no single measure can solve the problem in its entirety. However, these bills represent a strong step in the right direction. I am hopeful that we can carry forward this momentum into the next legislative session so we can help prevent more individuals and families from suffering the heartbreaking consequences of addiction.
---
Thank you to former State Senator and Chester County Commissioner Earl Baker for inviting me to speak to the Executive Leadership Program. The program helps individuals whose executive positions are directly impacted by government actions gain a better understanding of the legislative process.
---
Seating Still Available for November 3 Concealed Carry Seminar
There is still time to sign up to participate in my concealed carry seminar. The event will include a number of guest speakers with a wealth of information and experience that will be useful to novice and experienced gun owners alike.
The free seminar will be held November 3 in Washington from 6-8 p.m. at the North Franklin Volunteer Fire Company Social Hall, located at 565 Sylvan Drive. Seating for the event is limited. Constituents who are interested in attending are encouraged to RSVP online at http://www.senatorbartolotta.com/concealed-carry-seminar/.
---
Coffee With Camera Events Scheduled Next Week
My Coffee With Camera events are a great way for me to connect with community residents and talk about some of the most interesting and pressing issues in southwest Pennsylvania. The format allows for informal conversation in a relaxed setting, and refreshments are available free of charge.
I hope you can join me for one of these upcoming events. Even if you can't stay for the entire event, feel free to stop in and say hello!
Date: Tuesday, November 1, 2016
Time: 6-8pm
Location: Greene County Building, 1st Floor Conference Room
Address: 93 E. High Street, Waynesburg, PA 15370
Date: Wednesday, November 2, 2016
Time: 6-8pm
Location: Washington County City Hall
Address: 55 W. Maiden Street, Washington, PA 15301
---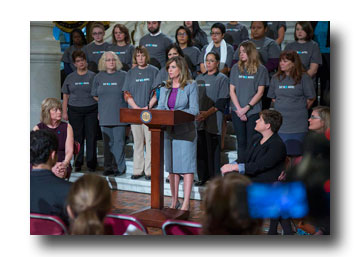 It was an honor to stand with the Pennsylvania Coalition Against Domestic Violence at its third annual event to commemorate the victims killed in the past year throughout the Commonwealth.
---
Free Medicare Counseling Available During Open Enrollment Period
The annual Medicare open enrollment period is open now and runs through December 7. This period allows new and existing enrollees to review and make changes to their current coverage in order to better meet their medical needs. Free counseling is available for beneficiaries through Pennsylvania's APPRISE program.
More than 700 volunteers in the APPRISE program offer objective information regarding available benefits and options, including prescription drug plans and supplemental plans. The program is designed to help beneficiaries navigate all of the complexities associated with various coverage options.
More information about the APPRISE program is available by calling 1-800-783-7067 or visiting www.aging.pa.gov/insurance.
---
For more information on issues of importance to southwestern Pennsylvania, please visit my website at www.senatorbartolotta.com and connect with me on Facebook (www.facebook.com/senatorbartolotta) and Twitter (www.twitter.com/senbartolotta).