Dear Friend,
I am pleased to send you this edition of my electronic newsletter. These e-newsletters enable me to provide information about issues, events and activities in Harrisburg and around the 46th Senatorial District to you in a timely manner while saving postage costs.
If you find this e-newsletter useful, I invite you to visit my website www.senatorbartolotta.com for more information about your state government. You can also keep up to date through Facebook (www.facebook.com/senatorbartolotta) and Twitter (www.twitter.com/senbartolotta).
If you do not wish to receive these e-newsletters, please click the "unsubscribe" button at the bottom of the page.
Sincerely,
Camera Bartolotta
---
Proposal Would Expand Number of Retailers That Can Sell Spirits
The liquor modernization law that went into effect in August included a number of measures to benefit consumers, including an expansion in the number of retailers that can sell wine. In the near future, I plan to introduce legislation along with several of my colleagues to expand the number of retailers that can sell spirits as well.
The plan would allow businesses that hold a valid restaurant liquor license or hotel liquor license to apply for a spirit expanded permit. The measure would increase selection and expand convenience for consumers across the Commonwealth without weakening existing safeguards to protect citizens.
More information about the bill is available here.
---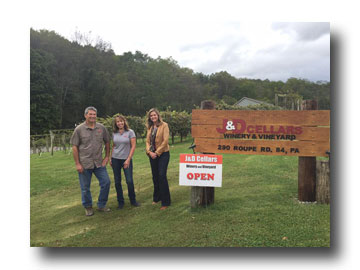 I visited several local wineries, including J&D Cellars in Eighty Four, this month while filming the latest edition of my TV show. The show is available online here.
---
Reminder: Pathways to Pardons Event Scheduled for Friday
An individual's criminal history can create serious roadblocks in obtaining employment, even for relatively minor infractions committed years or even decades prior. This week, I plan to partner with Lt. Governor Mike Stack for an event to help local individuals learn more about the process to apply for and receive a pardon in order to remove this troublesome stain from an individual's record.
The event, which is free and open to the public, will take place on Friday, October 14 from 5-7 p.m. at Courthouse Square, 100 West Beau Street, Suite 103 in Washington. If you or a loved one could benefit from this information, I invite you to join us to learn more about the pardons process.
---
Telephone Town Hall Will Focus on Heroin and Opioid Epidemic
Pennsylvania's heroin and opioid epidemic will be the focus of a special Telephone Town Hall meeting to be held on Monday, October 17 beginning at 6:30 p.m. Gene Vittone, District Attorney for Washington County, will be one of the panelists and experts also participating. Those interested in taking part can sign up ahead of time at www.acommonwealthcrisis.com to receive a phone call a few moments before the town hall meeting begins. Individuals can also sign up by texting the keyword "talkheroin" to the number 828282.
---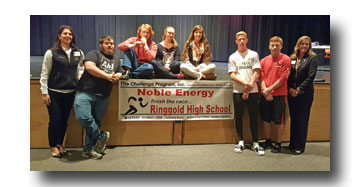 I had the pleasure of visiting Ringgold High School during its Challenge Program assembly. Congratulations to the award winners for their dedication to self-improvement.
---
Concealed Carry Seminar Rescheduled for November 3
My concealed carry seminar that was postponed in September has been rescheduled for November 3 in Washington. The seminar is designed to help gun owners learn how to apply for a concealed carry seminar and better understand laws pertaining to responsible firearm ownership.
The seminar will be held from 6-8 p.m. at the North Franklin Volunteer Fire Company Social Hall, located at 565 Sylvan Drive in Washington. Members of the law enforcement community will be available to discuss laws pertaining to firearms and answer questions from participants.
If you are interested in participating, please contact my office at (724) 746-3762 or email ladair@pasen.gov to reserve a spot.
---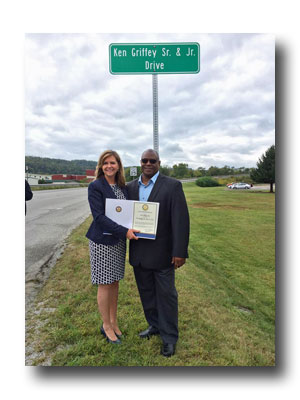 I was honored to take part in the dedication of Ken Griffey Sr. & Jr. Drive in Donora in order to honor two of our region's most decorated athletes.
---
Program Encourages Hunters to Help Families in Need
Deer hunting is a rich tradition for thousands of families across the Commonwealth. Pennsylvania's Hunters Sharing the Harvest program offers hunters a way to donate a portion of their venison to help local families in need.
To participate in the program, hunters can take their deer to any participating deer processor and choose the amount of venison they would like to donate to local charities to help families who are less fortunate. Sportsmen can donate as little or as much venison as they would like.
The program recently celebrated its 25th anniversary, with more than 1 million pounds of meat donated to county food banks.
A list of participating processors is available at www.sharedeer.org.
---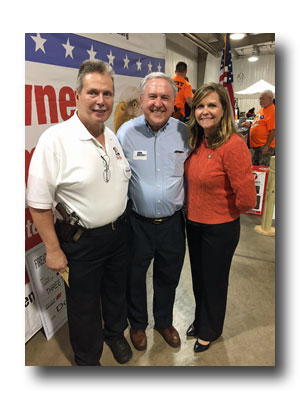 I had a chance to visit with Firearms Owners Against Crime (FOAC) President Kim Stolfer and Senator John Rafferty at the FOAC October Festival of Guns Gun Bash.
---
Application Period Opens for Charitable Food Grants
The U.S. Environmental Protection Agency offers a wide range of assistance programs, including the Rural Advantage program that supports rural communities. One of the three programs included in Rural Advantage helps communities leverage local resources to help meet the nutritional needs of low-income individuals and families.
The deadline to apply for grants through the program is November 6. Additional information and applications are available online here.
---
For more information on issues of importance to southwestern Pennsylvania, please visit my website at www.senatorbartolotta.com and connect with me on Facebook (www.facebook.com/senatorbartolotta) and Twitter (www.twitter.com/senbartolotta).
Offices
Harrisburg Office
Senate Box 203046
Harrisburg, PA 17120-3046
Phone: 717-787-1463
Fax: 717-772-2108
M-F: 8:30 am – 5:00 pm
SouthPointe District Office
135 Technology Drive
Suite 202
Canonsburg, PA 15317
Phone: 724-746-3762
Fax: 724-746-3797
M-F: 9 am – 5 pm
Greene County Office Building
93 East High Street
Suite 308
Waynesburg, PA 15370
Phone: 724-627-9802
Fax: 724-627-5066
M-W-Th: 8:30 am – 4:30 pm
Monongahela Office
316 West Main Street
Monongahela, PA 15063
Phone: 724-258-3365
Fax: 724-258-3368
M-Th-F: 8:30 am – 4:30 pm
Satellite Office
Hopewell Twp. Building
1700 Clark Boulevard
Aliquippa, PA 15001
2nd Monday of Month:
10 am - 4 pm