Dear Friend,
I am pleased to send you this edition of my electronic newsletter. These e-newsletters enable me to provide information about issues, events and activities in Harrisburg and around the 46th Senatorial District to you in a timely manner while saving postage costs.
If you find this e-newsletter useful, I invite you to visit my website www.senatorbartolotta.com for more information about your state government. You can also keep up to date through Facebook (www.facebook.com/senatorbartolotta) and Twitter (www.twitter.com/senbartolotta).
If you do not wish to receive these e-newsletters, please click the "unsubscribe" button at the bottom of the page.
Sincerely,
Camera Bartolotta
---
Proposal Would Eliminate E-Cigarette "Floor Tax"
The 2016-17 budget included a provision that enacted a 40-percent "floor tax" on existing inventory for electronic cigarette retailers. A number of local business owners have contacted me to express serious concerns that this retroactive tax would have a catastrophic impact on their business, creating the potential for many of these retailers to close. Every lawmaker should work to enact tax policy that encourages small business growth, and this current tax – a measure I voted against – is a step in the wrong direction.
This week, I announced plans to introduce a bill that would eliminate this tax and replace it with a 5 cents per milliliter tax, which is consistent with the tax rate in other states. This approach would allow retailers and suppliers to pay a consistent and predictable tax rate going forward instead of being forced to immediately pay an unexpected tax of this size on their existing inventory.
Community Outreach Events, VFW Visits Highlight Fall Schedule
Hosting outreach events and taking part in community activities is one of the most important and rewarding parts of my job because it gives me an opportunity to better understand the challenges facing local families. Earlier this week, I had the opportunity to co-host a meet-and-greet event in Eighty Four, Somerset Township with Representative Rick Saccone. I appreciated all of those who stopped by to say hello and share their thoughts and perspectives.
Over the next several weeks, I look forward to a number of upcoming events in communities throughout the region. I will co-host a Senior Expo on September 22 at Washington Crown Center, located at 1500 West Chestnut Street in Washington, from 10 a.m. until 3 p.m. On October 7, I look forward to co-hosting a senior expo at the Greene County Fairgrounds from 10 a.m. until 2 p.m. In addition, Lt. Governor Mike Stack will join me on October 14 to participate in a Pathway to Pardons event from 5-7 p.m. at Courthouse Square, 100 W. Beau St., Suite 103 in Washington.
My next tele-town hall will be held on September 29 from 6-7 p.m. Community residents can learn more and register for the event at http://www.senatorbartolotta.com/tele-town-hall/. In the near future, I will also announce the rescheduled date for my concealed carry seminar, which was postponed two weeks ago.
Additionally, I recently announced a partnership with the Pittsburgh Chapter of Veterans of Foreign Wars of the United States (VFW) to better serve veterans in local communities. In order to help veterans who find it difficult to travel to the VFW main office in Pittsburgh, a VFW representative will be available in my Canonsburg office the second Wednesday of every month and my Monongahela office the third Friday of every month. Veterans who are interested in scheduling an appointment can contact my Southpointe office for more information.
I enjoyed meeting Dr. Jenifer Cushman, Chancellor of Penn State Beaver, to discuss education opportunities and community building in Beaver County.
District Offices Offer Wealth of Services and Information
Helping people navigate the complexities of government bureaucracy is one of the most important duties of any elected official. My district offices in Canonsburg, Waynesburg and Monongahela serve as excellent resources to help connect community residents with their state government and answer questions regarding programs and services.
In addition to addressing concerns pertaining to state government programs and services, my district offices offer a number of other services, including:
Assistance with preparations of Property Tax/Rent Rebate claim forms.
Information and help with problems with insurance programs: Medical Assistance and CHIP.
Voter registration forms.
Requests for birth and death certificates.
Fishing and hunting information.
Information on financial assistance for higher education.
Citations from the Pennsylvania Senate for notable local accomplishments and family milestones.
PennDOT forms for special tags and driver and vehicle services.
Informational brochures and booklets.
Pennsylvania Personal Income Tax forms.
Requests for copies of legislation, bills and regulations.
Requests for literature for students and senior citizens.
Tours of the State Capitol for individuals or groups.
Unemployment compensation issues.
Please feel free to call or stop in at one of my offices so my staff or I can help!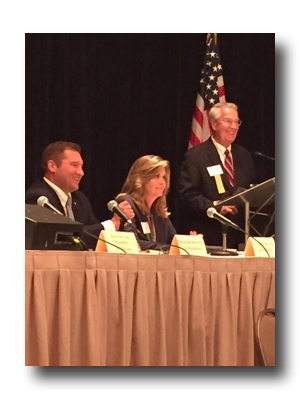 I had a chance to participate in the Pittsburgh Airport Area Chamber of Commerce Legislative Breakfast Forum recently to discuss a variety of pertinent questions on topics that are impacting business growth and development in our airports.
Mon Valley Job Fair Scheduled for October 6
Local job-seekers can learn more about employment opportunities available in local communities during the Mon Valley Job Fair in Belle Vernon on October 6. More than 40 employers will be available and looking to fill more than 200 job openings.
The job fair will be held from noon until 4 p.m. at the Willow Room, located at 800 Plaza Drive.
More information is available by contacting PA Careerlink Mon Valley at (724) 379-4750.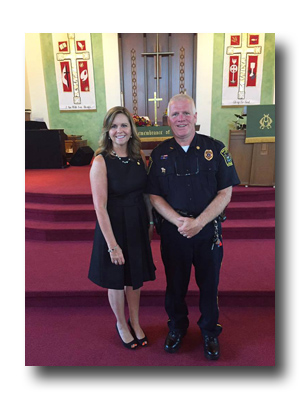 I appreciated the opportunity last week to pay tribute to our law enforcement
officers who sacrifice so much for our safety and security during an event at
Grace Methodist Church in Coal Center.
---
For more information on issues of importance to southwestern Pennsylvania, please visit my website at www.senatorbartolotta.com and connect with me on Facebook (www.facebook.com/senatorbartolotta) and Twitter (www.twitter.com/senbartolotta).
Offices
Harrisburg Office
Senate Box 203046
Harrisburg, PA 17120-3046
Phone: 717-787-1463
Fax: 717-772-2108
M-F: 8:30 am – 5:00 pm
SouthPointe District Office
135 Technology Drive
Suite 202
Canonsburg, PA 15317
Phone: 724-746-3762
Fax: 724-746-3797
M-F: 9 am – 5 pm
Greene County Office Building
93 East High Street
Suite 308
Waynesburg, PA 15370
Phone: 724-627-9802
Fax: 724-627-5066
W: 9:00 am – 4:30 pm
Monongahela Office
316 West Main Street
Monongahela, PA 15063
Phone: 724-258-3365
Fax: 724-258-3368
M-Th-F: 8:30 am – 4:30 pm
Satellite Office
Hopewell Twp. Building
1700 Clark Boulevard
Aliquippa, PA 15001
2nd Monday of Month:
10 am - 4 pm