Dear Friend,
I am pleased to send you this edition of my electronic newsletter. These e-newsletters enable me to provide information about issues, events and activities in Harrisburg and around the 46th Senatorial District to you in a timely manner while saving postage costs.
If you find this e-newsletter useful, I invite you to visit my website www.senatorbartolotta.com for more information about your state government. You can also keep up to date through Facebook (www.facebook.com/senatorbartolotta) and Twitter (www.twitter.com/senbartolotta).
If you do not wish to receive these e-newsletters, please click the "unsubscribe" button at the bottom of the page.
Sincerely,
Camera Bartolotta
---
Fighting Back Against Heroin and Opioid Abuse
Efforts to fight back against the catastrophic impacts of the heroin and opioid addiction are gaining steam as state government officials, health care professionals and other stakeholders have joined forces to attack this deadly problem from multiple angles. Additional funding, treatment options and awareness events offer hope that we can help those who are suffering from addiction and prevent more people from falling victim to this public health crisis.
Lawmakers approved additional funding in June to help expand treatment options for patients. The Department of Human Services recently announced that a local facility – the CARE Center in Washington – would receive a portion of this funding to better coordinate care for those who suffer from addiction. This grant funding will help qualified health care professionals give individuals the best chance to overcome the disease. More information on the CARE Center designation as a Center of Excellence is available here.
In addition, the Pennsylvania Department of Drug and Alcohol Programs recently approved a new ad campaign to help stop drug addiction before it starts and encourage individuals who are already suffering from addiction to seek help. More information on the awareness campaign is available at www.PAStop.org.
The Senate Republican Caucus also has created a new online resource to bring greater awareness to the problem and help connect state residents to treatment options, including a series of telephone town hall events featuring experts who can provide education and assistance. Visit http://www.acommonwealthcrisis.com/ for more information.
This public health crisis has claimed far too many lives and left permanent scars on surviving loved ones. I am thankful that we are starting to see some progress in addressing this pressing concern for our communities, and I will continue to work to pass stronger laws to prevent more people from being victimized by this terrible epidemic plaguing our communities.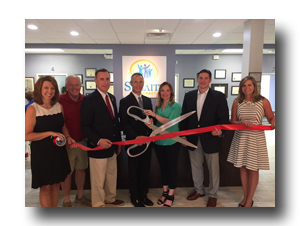 Congratulations are in order for the grand opening of Skraitz Chiropractic in Canonsburg. Also pictured: Marcy Santel, Chamber Board Chairman; Washington County Commissioner Harlan Shober; Congressman Tim Murphy; Dr. Timothy Skraitz; Dr. Kristina Skraitz; and Rep. Brandon Neuman.
Outreach Events Scheduled in September and October
One of the most important parts of my job is listening to the concerns of community residents and exploring solutions to the problems that affect our area. Over the next two months, I have a number of community outreach events scheduled to hear your perspectives and share information about what is happening in Harrisburg.
On September 12, Rep. Rick Saccone and I will participate in a meet-and-greet event from 6-8 p.m. in Somerset Township's Municipal Building, located at 617 Vanceville Road in Eighty Four. I will also co-host a Senior Expo on September 22 at Washington Crown Center, located at 1500 West Chestnut Street in Washington, from 10 a.m. until 3 p.m.
One of the best tools to stay connected with the community are telephone town hall events since this format allows individuals to share their views on issues from the comfort of their own homes. My next tele-town hall will be held on September 29 from 6-7 p.m. Community residents can learn more and register for the event at http://www.senatorbartolotta.com/tele-town-hall/.
On October 7, I look forward to co-hosting a senior expo at the Greene County Fairgrounds from 10 a.m. until 2 p.m. In addition, Lt. Governor Mike Stack will join me on October 14 to participate in a Pathway to Pardons event from 5-7 p.m.
I look forward to scheduling a series of Coffee with Camera events in October to discuss issues of local interest in a more relaxed, informal environment. Check back at www.senatorbartolotta.com for further updates on these and other local events, including the rescheduling of my Concealed Carry Seminar that was postponed earlier this week.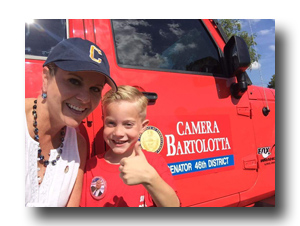 It was an honor to participate in the King Coal Parade in Carmichaels organized by the King Coal Association, which celebrated its 63rd year.
VFW Partnership Will Help Local Veterans File VA Claims
Our region is home to numerous individuals who have served our country in the military with honor and distinction. I recently partnered with Veterans of Foreign Wars (VFW) to help ensure every local veteran receives the benefits they rightfully earned through their service to our country.
Beginning on September 9, a VFW representative will visit my district offices on a regular basis to offer assistance and answer questions pertaining to veterans' benefits to help those who may have a hard time traveling to the VFW's main office in Pittsburgh. A representative will be available in my Monongahela office on September 9 and 23, my Canonsburg office on September 14 and 28, and my Waynesburg office on September 19 and October 3.
Veterans who are interested in scheduling an appointment can contact VFW Supervisor Linda Eshenbaugh at (412) 395-6259 for more information.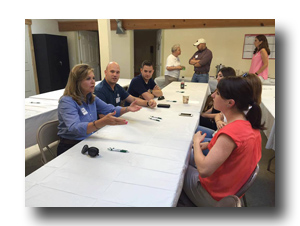 I appreciated the chance to discuss the future of Pennsylvania agriculture with attendees of the Beaver-Lawrence County Farm Bureau's legislative event, which was held at Deerfield Farms Service, Inc.
Plastics Packaging Manufacturer Will Bring New Jobs to Washington County
Retal PA, LLC, an international plastics packaging manufacturer, will bring 88 new family-sustaining jobs to Washington County by establishing a new headquarters and manufacturing facility in Donora Borough.
The company has purchased an existing 140,000-square-foot facility at 55 South Washington Street. Retal has committed to invest at least $15 million in the project to train new employees and purchase the property, machinery and equipment.
State Grant Supports Washington County Airport
A state grant from the Pennsylvania Department of Transportation will help Washington County Airport purchase an existing hangar and office to allow the county to continue providing essential hangar space and aviation-related office space. I applaud the Department of Transportation for recognizing the importance of this facility and taking steps to improve our local aviation infrastructure.
The funding was awarded through the Aviation Transportation Assistance Program, which is a capital budget grant program funded with bonds. Statewide, $5.4 million in grants have been awarded through the program this year, as well as $3.4 million in state funding from the Aviation Development Program.
Meadowcroft Rockshelter Featured in TV Show
In the latest edition of my "Focus on the 46th" TV program, viewers can experience what life was like for prehistoric Americans at the Meadowcroft Rockshelter and Historic Village located in Avella. During the program, I tour the oldest site of human habitation in North America which features 16,000-year-old evidence of the region's earliest inhabitants under a massive rock overhang.
The entire program is available here.
---
For more information on issues of importance to southwestern Pennsylvania, please visit my website at www.senatorbartolotta.com and connect with me on Facebook (www.facebook.com/senatorbartolotta) and Twitter (www.twitter.com/senbartolotta).