Dear Friend,
I am pleased to send you this edition of my electronic newsletter. These e-newsletters enable me to provide information about issues, events and activities in Harrisburg and around the 46th Senatorial District to you in a timely manner while saving postage costs.
If you find this e-newsletter useful, I invite you to visit my website www.senatorbartolotta.com for more information about your state government. You can also keep up to date through Facebook (www.facebook.com/senatorbartolotta) and Twitter (www.twitter.com/senbartolotta).
If you do not wish to receive these e-newsletters, please click the "unsubscribe" button at the bottom of the page.
Sincerely,
Camera Bartolotta
---
School Code Amendments Focus on Improving Student Achievement
Ensuring our young people have a chance to succeed in the classroom is a priority shared by lawmakers from both parties. Included among a flurry of bills approved last month, lawmakers made a number of bipartisan changes to the Public School Code to help ensure our schools have the resources they need to help our students thrive.
In addition to the new resources for education that were included in the state budget, an additional $25 million was devoted to the Educational Improvement Tax Credit (EITC) program to encourage the private sector to continue supporting educational opportunities for young people. Lawmakers also approved new hybrid learning grants that will help schools develop and implement programs that blend digital resources with traditional classroom instruction to provide new learning opportunities for students. Additionally, a new provision will help ease the substitute teaching shortage by allowing some college students to fill in on a limited basis, rather than leaving classrooms without instructors.
Several changes were also included to help schools control costs and increase transparency. The new law allows school districts to enter into administrative partnerships to share personnel, including superintendents, to reduce costs and allow taxpayers a closer look at school district spending.
Finally, the new law created a pilot program to better help students who are recovering from drug and alcohol addiction. The program will run through the 2019-2020 school year in a limited number of school districts, but it could hold broader potential to aid students in schools throughout the Commonwealth.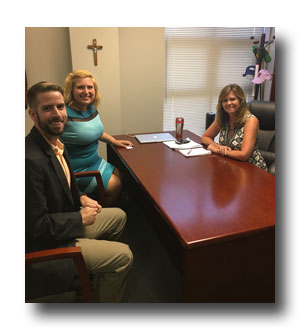 I enjoyed speaking with staff from the Washington & Jefferson College Center for Energy Policy & Management during a meeting at my Southpointe district office.
Concealed Carry Seminar Scheduled in South Strabane Township
The Second Amendment is one of the pillars of the U.S. Constitution and one of the most treasured rights of many Americans, and it is critical for firearm owners to understand all of their rights and the responsibilities that go along with gun ownership. Later this month, I look forward to hosting a seminar in South Strabane Township to help residents of the 46th Senatorial District better understand their Second Amendment rights and learn more about the process to apply for a concealed carry permit.
The seminar will be held at the South Strabane Fire House, located at 172 Oak Spring Road, on August 30 from 5:30-7:00 p.m. Washington County District Attorney Eugene Vittone and representatives from the Washington County Sheriff's Office and Pennsylvania State Police will be in attendance to help answer questions and provide information regarding safe and responsible gun ownership.
Seating for the event is limited to those who reside in the 46th Senatorial District. Constituents who are interested in attending are encouraged to RSVP online at http://www.senatorbartolotta.com/concealed-carry-seminar/. I hope to see you there!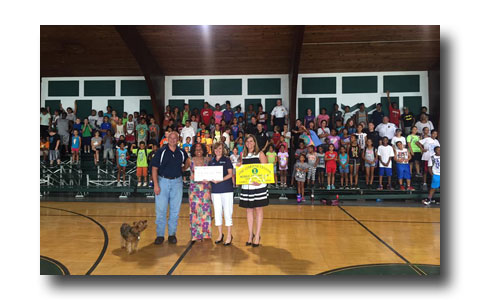 I had the pleasure of stopping by the LeMoyne Community Center (LCC) to donate vehicle magnets to support the Mobile Feeding Program. I enjoyed speaking with LCC Executive Director Joyce Ellis and Sarah Barczyk of the Columbia Pipeline Group, who presented a contribution to help the LCC continue to build on the success of their "Camp Challenge" summer program.
DMVA Searching for Photos for Vietnam Veterans Memorial Wall
In order to honor those who made the ultimate sacrifice during the conflict in Vietnam, the Pennsylvania Department of Military and Veterans Affairs (DMVA) is encouraging state residents to share photos of friends or loved ones who were killed in action during the Vietnam conflict. The goal of this initiative is to create a virtual Wall of Faces with photos to go with each of the 58,000 names on the Vietnam Memorial Wall in Washington DC.
The Wall of Faces project is a joint effort with the Vietnam Veterans Memorial Fund to ensure that the faces of our country's heroes are never forgotten. More information on the project, including a list of Pennsylvanians whose photos are still needed, is available here.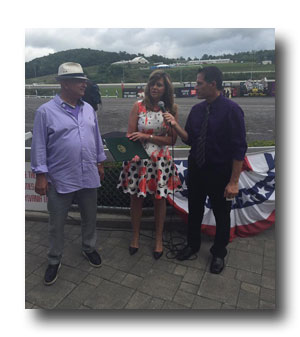 I presented a citation honoring the 50th anniversary of the Adios Race for the Orchids at the Meadows Racetrack and Casino on July 30.
Medicinal Cannabis Safe Harbor Applications Available Now
I supported legislation in April that will allow patients suffering from certain medical conditions to access medicinal cannabis with a prescription from a physician. Although Pennsylvania's medicinal cannabis growers, processors and dispensaries will not be fully operational until sometime in 2017 or 2018, the Department of Health recently announced plans to allow parents, guardians and caregivers of children who suffer from one of these serious medical conditions to apply to administer medicinal cannabis obtained outside of Pennsylvania.
The application process requires caregivers to undergo a background check and have a doctor complete a Safe Harbor Letter Physician Form. A photo ID is also required for the caregiver. The entire process is completed online. Additional details regarding the Safe Harbor Letter application process is available here .
Local Fairs Highlight Best of Washington, Greene Counties
County fairs offer an incredible opportunity for the entire community to showcase their talents and hard work, especially those who work in agriculture and related industries. Washington County and Greene County residents will take their turn in the spotlight during county fairs this month.
The Greene County Fair runs from August 7-13. A complete schedule of events, sponsors, exhibits, entertainment and more is available online at http://www.greenecountyfair.org/.
The Washington County Agricultural Fair is scheduled to run from August 13-20. Additional details about the event are available online at http://www.washingtonfair.org/.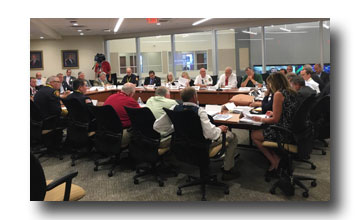 I recently joined emergency responders and members of the Senate Veterans Affairs and Emergency Preparedness Committee to discuss ways to continue improving the delivery of emergency services in Pennsylvania.
Details Provided on Farm Conservation Tax Credit Applications
Agricultural producers who implement management practices to reduce pollution or purchase equipment to protect local rivers and streams can apply now for tax credits through the 2016-17 Resource Enhancement and Protection (REAP) program.
Tax credits of up to $150,000 are available to cover 50 to 75 percent of the project's cost. The REAP program offers tax credits for projects including no-till planting and precision ag equipment, waste storage facilities, Conservation Plans, Nutrient Management Plans and protecting heavy animal use areas like barnyards.
Applications and additional details about the program are available here.
---
For more information on issues of importance to southwestern Pennsylvania, please visit my website at www.senatorbartolotta.com and connect with me on Facebook (www.facebook.com/senatorbartolotta) and Twitter (www.twitter.com/senbartolotta).
Offices
Harrisburg Office
Senate Box 203046
Harrisburg, PA 17120-3046
Phone: 717-787-1463
Fax: 717-772-2108
M-F: 8:30 am – 5:00 pm
SouthPointe District Office
135 Technology Drive
Suite 202
Canonsburg, PA 15317
Phone: 724-746-3762
Fax: 724-746-3797
M-F: 9 am – 5 pm
Greene County Office Building
93 East High Street
Suite 308
Waynesburg, PA 15370
Phone: 724-627-9802
Fax: 724-627-5066
M-W-Th: 8:30 am – 4:30 pm
Monongahela Office
316 West Main Street
Monongahela, PA 15063
Phone: 724-258-3365
Fax: 724-258-3368
M-Th-F: 8:30 am – 4:30 pm
Satellite Office
Hopewell Twp. Building
1700 Clark Boulevard
Aliquippa, PA 15001
2nd Monday of Month:
10 am - 4 pm