Dear Friend,
I am pleased to send you this edition of my electronic newsletter. These e-newsletters enable me to provide information about issues, events and activities in Harrisburg and around the 46th Senatorial District to you in a timely manner while saving postage costs.
If you find this e-newsletter useful, I invite you to visit my website www.senatorbartolotta.com for more information about your state government. You can also keep up to date through Facebook (www.facebook.com/senatorbartolotta) and Twitter (www.twitter.com/senbartolotta).
If you do not wish to receive these e-newsletters, please click the "unsubscribe" button at the bottom of the page.
Sincerely,
Camera Bartolotta
---
General Assembly Completes 2016-17 Budget Process
With passage of several budget-related measures last week, the General Assembly completed all of the bills necessary to fund state government operations for the 2016-17 Fiscal Year.
Education was one of the highest priorities in the budget, with an additional $200 million dedicated to basic education and new funding added for special education, pre-k and higher education. In addition, changes to the Public School Code will help ease the shortage of substitute teachers, support cost-saving administrative partnerships between school districts, expand educational opportunities for students and promote greater transparency and accountability for school district spending.
Public safety was also a critical concern. Additional funding was included in the budget to combat the opioid and heroin addiction crisis that has had devastating consequences for families throughout the region. In addition, funding was included to prevent the spread of the Zika virus and highly pathogenic avian influenza.
Although I am thankful that a number of local priorities were addressed, I voted against the package of new revenues that was developed by Governor Wolf and legislative leaders last week. I believe there are better, more sustainable ways to fund the budget than the proposal that passed, such as allowing responsible, regulated online gaming and fantasy sports betting. Additionally, I would have preferred to see public pension reform as a component of this budget package, but this was removed from the negotiation table.
The budget also needed to go further in terms of reining in government expenses, particularly the crushing pension obligations that are choking out any new investment in worthwhile government programs. We cannot continue to spend hundreds of millions of new dollars on public employee pensions every year without reforming those systems and reducing the risk to taxpayers.
More information is available here.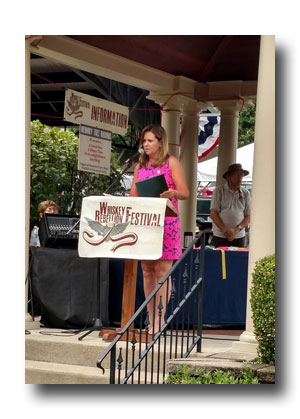 It was an honor to take part in the opening ceremonies of the Whiskey Rebellion Festival in Washington. I also introduced a resolution in the Senate recognizing Whiskey Rebellion Heritage Week in Pennsylvania. My comments on the resolution are available here.
Information on Local Bridge Projects Available Online
A number of local bridge projects are underway or will begin soon under the Pennsylvania Department of Transportation's (PennDOT) Rapid Bridge Replacement Project. This strategy allows PennDOT to contract with private partners to design, construct, and maintain these bridges for 25 years, resulting in significant savings for Pennsylvania taxpayers.
Information on ongoing and upcoming projects is available at the links below.
Washington County
Greene County
Beaver County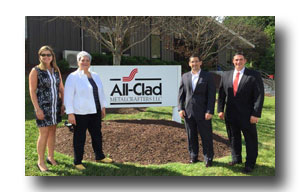 I toured the All-Clad Metalcrafters in Cecil Township with the Dept. of Labor and Industry Secretary Kathy Manderino and Representatives Jason Ortitay and Brandon Neuman.
Portion of State Route 1030 to be Renamed in Honor of Local Baseball Greats
A portion of State Route 1030 in Donora Borough will be renamed in honor of native sons Ken Griffey, Sr. and Ken Griffey, Jr., each of whom have been nationally recognized for their significant contribution to professional baseball and local sports history. The players were the first father-son team to ever play simultaneously in the majors. Ken Griffey, Sr has been inducted in the Cincinnati Reds Hall of Fame, and his son was been inducted into the Seattle Mariners' Hall of Fame, the Reds Hall of Fame, and as of this year, the Major League Baseball Hall of Fame.
The road dedication in honor of these two local sports legends will be held in conjunction with a dedication ceremony organized by local government officials.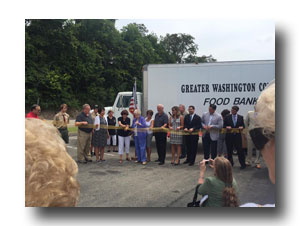 I appreciated the chance to celebrate the grand opening of the Washington County Food Bank's new facility in Brownsville. The facility includes space for cooking, canning, nutrition and other classes to help community residents enjoy a healthier lifestyle.
Legislative Update
In addition to passing a series of budget-related bills, the Senate approved the following measures last week:
Senate Bill 648 requires that monies generated through ATV-related operations are placed in a restricted account to be used for a variety of purposes including the construction and maintenance of ATV trails and acquisition of equipment, supplies and interests in land.
House Bill 325 clarifies and updates the Auctioneer Licensing and Trader Assistant Registration Act and eliminates the Auction House license.
Senate Bill 533 establishes a uniform procedure for the disposition of contraband left in the possession of probation and parole agencies.
Senate Bill 514 amends the Generic Equivalent Drug Law to provide for the substitution of an interchangeable biological product for a brand name biologic.
House Bill 806 amends the Clean and Green law to prohibit the application of use values that result in assessments higher than fair market value.
House Bill 871 allows for the de-titling of vehicles which are recycled by a scrap metal processor.
House Bill 967 establishes an agricultural pilot program for industrial hemp research.
Senate Bill 1227 transfers the responsibilities of the Public Employee Retirement Commission with regard to pension legislation to the Independent Fiscal Office and the Office of the Auditor General.
Senate Bill 1221 reforms the Pittsburgh Intergovernmental Cooperation Authority.
Senate Bill 1267 enhances the Pennsylvania Department of Transportation's Municipal Signal Partnership Program known as Green Light-Go.
Senate Bill 717 allows nurse practitioners to have full practice authority after completing certain training requirements.
House Bill 568 amends the Pennsylvania Construction Code Act providing for the review of updated sections of codes.
Senate Bill 1229 addresses the process used by the Department of Corrections prior to the closure of a state prison and corrects technical issues related to the distribution of Pennsylvania Breeding Funds.
I was pleased to participate in the grand opening of J&D Cellars Winery and Vineyard located in Eighty Four. It's always great to see the creation and expansion of new businesses in our area.
---
For more information on issues of importance to southwestern Pennsylvania, please visit my website at www.senatorbartolotta.com and connect with me on Facebook (www.facebook.com/senatorbartolotta) and Twitter (www.twitter.com/senbartolotta).