Dear Friend,
I am pleased to send you this edition of my electronic newsletter. These e-newsletters enable me to provide information about issues, events and activities in Harrisburg and around the 46th Senatorial District to you in a timely manner while saving postage costs.
If you find this e-newsletter useful, I invite you to visit my website www.senatorbartolotta.com for more information about your state government. You can also keep up to date through Facebook (www.facebook.com/senatorbartolotta) and Twitter (www.twitter.com/senbartolotta).
If you do not wish to receive these e-newsletters, please click the "unsubscribe" button at the bottom of the page.
Sincerely,
Camera Bartolotta
---
General Assembly Passes 2016-17 Spending Plan
Last week, lawmakers agreed on a $31.53 billion spending plan for Fiscal Year 2016-17 that will meet all of the state's financial obligations without the need for an increase in broad-based taxes. I am pleased that we have been able to work with Governor Wolf to arrive at an agreement on total state government spending so we can avoid the terrible consequences of last year's prolonged budget impasse.
The spending bill includes funding for some of the most pressing needs of our communities, including new resources for education and to fight back against the growing heroin and opioid addiction crisis. The budget underscores the need for legislators to do more to control government costs, including reforming a public employee pension system that accounted for nearly a half a billion dollars in new spending.
In the coming days, the General Assembly is expected to reconvene to complete work on a number of budget-related bills, including a revenue package. My full statement regarding passage of the 2016-17 state spending plan is available here.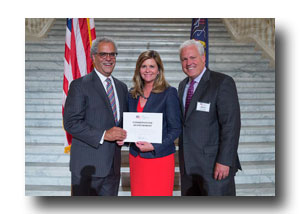 It was an incredible honor to receive the American Conservative Union's "Award for Conservative Achievement." The American Conservative Union is the nation's original conservative organization dedicated to fighting for Americans who are concerned with liberty, personal responsibility, and strong national defense.
Legislative Update – Supporting Emergency Responders, National Guard
In addition to passing the state budget, legislators approved a number of bills in the past two weeks to support Pennsylvania communities, including the creation of new laws to extend a critical grant program for emergency responders and increase the base pay of Pennsylvania National Guard members on active duty.
Other bills signed into law recently include:
House Bill 1325, legislation to ensure storm water management fees charged by municipalities are uniform, and to ensure the fees are used appropriately.
Senate Bill 936, a bill to allow employers to recoup the additional cost of complying with a court order for wage garnishment for child support payments.
The following bills were also sent to the Governor to be signed into law:
House Bill 59 requires that all individuals born between 1945 and 1965 be offered a hepatitis C screening or diagnostic test when treated at hospitals, health care facilities or physicians' offices.
House Bill 60 addresses the cost disparity between intravenous and oral chemotherapy treatments.
House Bill 64 requires licensed psychologists, social workers, marriage and family therapists and professional counselors to complete at least one hour of continuing education in suicide prevention.
House Bill 898 designates Philadelphia Prison System prisoner transport units and emergency response vehicles operated by the PA Turnpike as emergency vehicles, permitting them to utilize flashing lights and sirens.
Senate Bill 917 allows for the sharing of county agency, juvenile probation, drug and alcohol, mental health and education records in certain cases involving juveniles.
| | |
| --- | --- |
| | I enjoyed speaking with Aliquippa resident Mariah Aquino-Truss, who lives with juvenile arthritis. Mariah was joined by her mother, Tory Aquino, her sister, Mauriauna, and her grandmother, Christine Aquino, for Arthritis Foundation Advocacy and Access Day at the state Capitol Building. |
Summer Fairs Offer Opportunities for Fun and Education
Local fairs help to highlight many of the qualities that make our communities special while offering a fun and affordable source of recreation and entertainment for families. Two of the largest local events are scheduled to take place in August.
The Greene County Fair runs from August 7-13. A complete schedule of events, sponsors, exhibits, entertainment and more is available online at http://www.greenecountyfair.org/.
The Washington County Agricultural Fair is scheduled to run from August 13-20. Additional details about the event are available online at http://www.washingtonfair.org/.
I hope community residents are able to attend and support this important part of our shared heritage. I look forward to seeing you there!
I appreciated the chance to take part in three incredible community events this weekend – Canonsburg Independence Day Parade, McDonald McSummerfest Parade and the Bentleyville Bicentennial Parade. Thanks to all those who helped make these events a success.
---
For more information on issues of importance to southwestern Pennsylvania, please visit my website at www.senatorbartolotta.com and connect with me on Facebook (www.facebook.com/senatorbartolotta) and Twitter (www.twitter.com/senbartolotta).
Offices
Harrisburg Office
Senate Box 203046
Harrisburg, PA 17120-3046
Phone: 717-787-1463
Fax: 717-772-2108
M-F: 8:30 am – 5:00 pm
SouthPointe District Office
135 Technology Drive
Suite 202
Canonsburg, PA 15317
Phone: 724-746-3762
Fax: 724-746-3797
M-F: 9 am – 5 pm
Greene County Office Building
93 East High Street
Suite 308
Waynesburg, PA 15370
Phone: 724-627-9802
Fax: 724-627-5066
M-W-Th: 8:30 am – 4:30 pm
Monongahela Office
316 West Main Street
Monongahela, PA 15063
Phone: 724-258-3365
Fax: 724-258-3368
M-Th-F: 8:30 am – 4:30 pm
Satellite Office
Hopewell Twp. Building
1700 Clark Boulevard
Aliquippa, PA 15001
2nd Monday of Month:
10 am - 4 pm