Dear Friend,
I am pleased to send you this edition of my electronic newsletter. These e-newsletters enable me to provide information about issues, events and activities in Harrisburg and around the 46th Senatorial District to you in a timely manner while saving postage costs.
If you find this e-newsletter useful, I invite you to visit my website www.senatorbartolotta.com for more information about your state government. You can also keep up to date through Facebook (www.facebook.com/senatorbartolotta) and Twitter (www.twitter.com/senbartolotta).
If you do not wish to receive these e-newsletters, please click the "unsubscribe" button at the bottom of the page.
Sincerely,
Camera Bartolotta
---
Proposal Introduced to Improve DEP Erosion and Sediment Control Permitting Process
In order to protect our waterways against the threat of pollution, the state Department of Environmental Protection (DEP) requires businesses to apply for an erosion and sediment control permit before commencement of any earthmoving activity greater than five acres. I recently introduced a bill that would establish this policy in state law and provide greater transparency and accountability to the application review process.

Senate Bill 1325 would establish reporting requirements to ensure accountability and transparency not only regarding the amount of time DEP spends reviewing applications, but also in reference to the number of permits applied for and issued. This approach recognizes the importance of the environmental safeguards DEP has developed while ensuring applicants are not subjected to unreasonable delays in the review process.

More information about the proposal is available here.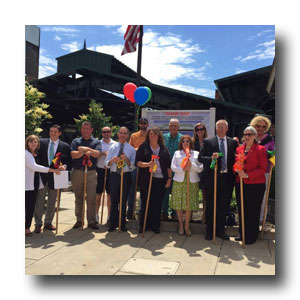 I recently joined community leaders to celebrate the completion and dedication of the Main Street Farmers Market in downtown Washington, which includes the addition of two pavilion roofs constructed over the South Main Street parking lot.
Impact Fee Revenue Totals $26 Million Locally
Act 13 of 2012 established an impact fee on unconventional natural gas wells to provide revenue to counties and municipalities to complete projects like road and bridge repairs, housing and other infrastructure needs.
As part of this law, counties and municipalities that make up the 46th Senatorial District will receive a total of more than $26 million in funding based on production in 2015.
Beaver, Greene and Washington counties will receive a combined total of nearly $10 million in revenues, and individual municipalities within the 46 th District will receive a combined total of more than $16 million. The impact fee generated $187 million in revenues statewide in 2015, bringing the cumulative total of impact fees paid by the industry to more than a billion dollars.
Pennsylvania is the only state that imposes an impact fee on natural gas extraction. The fee mirrors the severance tax charged in other states and is levied in addition to the corporate taxes paid by every business in the state.
The taxes and fees paid by the natural gas industry support numerous projects throughout the region, and these improvements only underscore the importance of supporting the responsible development of our natural resources without creating a business climate that discourages new investments and business growth.
| | |
| --- | --- |
| | The Senate Majority Policy Committee held a public hearing last week to explore ways to improve the distribution of funding under the Supplemental Nutrition Assistance Program, also known as SNAP or food stamps. |
Senate Panel Passes Measure to Simplify Process for Small Businesses Bidding on State Road Contracts
Small businesses are a critical part of our economy, accounting for nearly half of all jobs in the private sector. The Senate Transportation Committee recently approved a bill I sponsored that would make it easier for small businesses to bid on state road contracts.
In current practice, companies bidding on state road projects must submit complicated and expensive financial statements. That process makes it extremely difficult for many companies to bid on state road projects simply because of the time, effort and financial resources that are required to meet the excessive reporting requirements
Senate Bill 1181 would exempt companies bidding on state road projects of $1 million or less from certain financial statement filing requirements that have proven to undermine the ability of a small business to bid on these projects. Companies would still be required to submit financial statements, but the type of statements for smaller projects would be less complex than those required of larger firms that work on more expensive and complicated projects.
Additional information on the bill is available here .
| | |
| --- | --- |
| It was a pleasure to join concerned citizens from local communities for a press conference in opposition to the placement of video gaming terminals in bars and taverns. | |
Budget Debate Enters the Home Stretch
The Senate is scheduled to be in session every day from June 22 through the end of the Fiscal Year on June 30 in order to complete next year's state budget. I am hopeful that we can enact a responsible and timely budget in the days to come in order to avoid the ugliness of the protracted budget process last year that put funding for our schools and social services at risk.
I am also hopeful we can meet the state's financial obligations without increasing broad-based taxes or creating any unnecessary growth in state spending. In the days ahead, I will continue to keep you informed with updates relating to the status of the 2016-17 state budget.
Property Tax Rent Rebate Deadline Extended
Pennsylvania's Property Tax/Rent Rebate program offers financial assistance to many low-income seniors and individuals with disabilities. The deadline to apply for rebates of rent and property taxes paid in 2015 was recently extended to December 31, 2016.
The rebate program benefits eligible Pennsylvanians age 65 and older; widows and widowers age 50 and older; and people with disabilities age 18 and older. The income limit is $35,000 a year for homeowners and $15,000 annually for renters, and half of Social Security income is excluded.
Forms and other information are available online at www.revenue.pa.gov or by calling, toll-free, (888) 222-9190. Claimants may check the status of their claims online at www.revenue.pa.gov or by calling, toll-free, 1-888-PATAXES. If you need help completing an application, please feel free to contact one of my local district offices for assistance.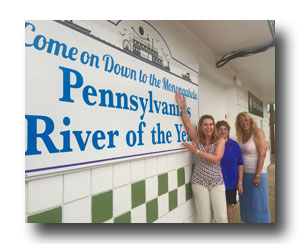 Last week, I had the pleasure of visiting the Monongahela Aquatorium to tape an upcoming edition of my "Focus on the 46th" cable program. I appreciated the chance to tour this incredible facility with Claudia Williams, a volunteer at the aquatorium, and Terry Sebben, former President of Aquatorium Innovations, Inc.
---
For more information on issues of importance to southwestern Pennsylvania, please visit my website at www.senatorbartolotta.com and connect with me on Facebook (www.facebook.com/senatorbartolotta) and Twitter (www.twitter.com/senbartolotta).
Offices
Harrisburg Office
Senate Box 203046
Harrisburg, PA 17120-3046
Phone: 717-787-1463
Fax: 717-772-2108
M-F: 8:30 am – 5:00 pm
SouthPointe District Office
135 Technology Drive
Suite 202
Canonsburg, PA 15317
Phone: 724-746-3762
Fax: 724-746-3797
M-F: 9 am – 5 pm
Greene County Office Building
93 East High Street
Suite 308
Waynesburg, PA 15370
Phone: 724-627-9802
Fax: 724-627-5066
M-W-Th: 8:30 am – 4:30 pm
Monongahela Office
316 West Main Street
Monongahela, PA 15063
Phone: 724-258-3365
Fax: 724-258-3368
M-Th-F: 8:30 am – 4:30 pm
Satellite Office
Hopewell Twp. Building
1700 Clark Boulevard
Aliquippa, PA 15001
2nd Monday of Month:
10 am - 4 pm