Dear Friend,
I am pleased to send you this edition of my electronic newsletter. These e-newsletters enable me to provide information about issues, events and activities in Harrisburg and around the 46th Senatorial District to you in a timely manner while saving postage costs.
If you find this e-newsletter useful, I invite you to visit my website www.senatorbartolotta.com for more information about your state government. You can also keep up to date through Facebook (www.facebook.com/senatorbartolotta) and Twitter (www.twitter.com/senbartolotta).
If you do not wish to receive these e-newsletters, please click the "unsubscribe" button at the bottom of the page.
Sincerely,
Camera Bartolotta
---
Public Hearing in Beaver County Explores Heroin and Opioid Addiction Crisis
Last week, the Center for Rural Pennsylvania held a public hearing in Beaver County to take a closer look at the impacts and potential treatment of opioid and heroin addiction. The hearing included the perspectives of the law enforcement community, local prosecutors, addiction and treatment experts and other stakeholders.
The addiction crisis has scarred far too many lives in local communities, and it is critical to explore every potential avenue to help affected individuals and families. I appreciate all of those who took time out of their busy schedules to contribute to this hearing, and I am hopeful we can work together to turn the testimony we gathered into meaningful action.
Footage from this hearing can be viewed here.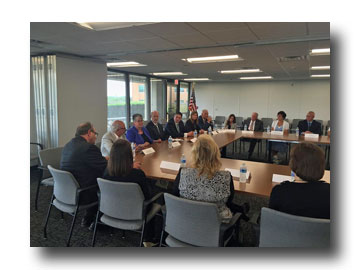 Governor Wolf recently visited Washington County to participate in a roundtable discussion regarding local and statewide efforts to combat the opioid and heroin epidemic. Local officials, law enforcement and health care professionals added some extremely helpful perspectives on the problem.
Beaver County Shell Plant Construction Will Move Forward
Communities in southwestern Pennsylvania received a welcome piece of good news with the announcement that Royal Dutch Shell will move forward with plans to build a petrochemical plant in Beaver County. The multi-billion dollar project is expected to add hundreds of long-term jobs to the region, as well as thousands of jobs in construction and related industries over the next several years.
This project is the result of four years of hard work by state and local officials, company representatives and other advocates and stakeholders. My statement in response to this announcement is available here.
| | |
| --- | --- |
| | I appreciated the invitation to speak about my experience in government and politics during the Washington County Farm Bureau's Women's Day event. |
Legislative Update - Historic Liquor Reforms Signed Into Law
Lawmakers gave final approval this week to a historic liquor modernization bill that will dramatically improve customer convenience. In addition to expanding hours and allowing more flexible pricing options at state-owned Wine and Spirits stores, the new law allows for the sale of wine in many grocery stores and the sale of six-packs in some convenience stores. These consumer-centered reforms are certainly a step in the right direction.
In addition to signing House Bill 1690 into law, Governor Wolf also approved a number of other bills recently, including:
Senate Bill 290, legislation to make the ignition interlock program mandatory for first-time DUI offenders with high blood alcohol levels.
House Bill 1552, which establishes a bipartisan fair funding formula for Pennsylvania schools.
House Bill 1574, legislation to update and expand Pennsylvania's anti-hazing laws.
The Senate also approved the following bills, which were sent to the House of Representatives for consideration:
Senate Bill 1195, legislation to extend the amount of time the General Assembly would have to review Pennsylvania's plan to comply with the Federal Clean Power Plan.
Senate Bill 1227, which transfers responsibilities to study pension legislation to the Independent Fiscal Office.
House Bill 264, legislation that would require the use of carbon monoxide detectors in residential care facilities that use fossil fuel heating sources.
Senate Bill 428, legislation that would provide additional sentencing options to properly evaluate individuals who visit a casino while on a self-exclusion list.
The following bills were also sent to the governor's desk to be signed into law:
Senate Bill 61, which would allow bike medics to operate their bicycles in the same manner as a police officer.
Senate Bill 489, a bill to reduce the fee for cashing a government-issued check and to allow recovery of losses due to fraudulent representation.
| | |
| --- | --- |
| I joined lawmakers and advocates this week for a press conference in support of Pennsylvania's new ignition interlock law (Act 33). | |
State Loans Support Washington County Job Creation Project
Two loans from the Pennsylvania Industrial Development Authority (PIDA) will help the Mon Valley Alliance and Retal PA, LLC, acquire a new plastics plant facility and manufacturing equipment that is expected to create 88 new jobs in Washington County. The loans will finance the acquisition and renovation of a 143,225-square-foot brownfield site in Donora, returning the land to productive use.

PIDA is an independent authority staffed and regulated through the Department of Community and Economic Development. The low-interest loans will be repaid over the next 10-15 years.
PA Department of Health Begins Work on Medicinal Cannabis Regulations
Following passage of a new law in April to permit and regulate the use of medicinal cannabis for state residents who suffer from certain medical conditions, the Pennsylvania Department of Health recently began work on temporary regulations to implement the new program. The program is expected to be fully implemented in 18 to 24 months.
In order to get consistent feedback on the implementation of the law, the Department of Health is conducting a series of surveys regarding regulations for growers, processors, dispensaries and patient access. Additional information on the Department of Health's efforts to establish the medicinal cannabis program is available here.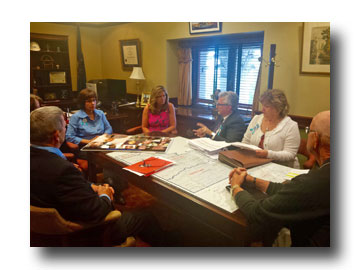 Members of PA Parents Against Impaired Driving stopped by my office to discuss DUI laws and the need for further legislative action. Their stories are inspiring, and I am hopeful we can take additional steps to prevent further tragedies resulting from impaired driving.
---
For more information on issues of importance to southwestern Pennsylvania, please visit my website at www.senatorbartolotta.com and connect with me on Facebook (www.facebook.com/senatorbartolotta) and Twitter (www.twitter.com/senbartolotta).
Offices
Harrisburg Office
Senate Box 203046
Harrisburg, PA 17120-3046
Phone: 717-787-1463
Fax: 717-772-2108
M-F: 8:30 am – 5:00 pm
SouthPointe District Office
135 Technology Drive
Suite 202
Canonsburg, PA 15317
Phone: 724-746-3762
Fax: 724-746-3797
M-F: 9 am – 5 pm
Greene County Office Building
93 East High Street
Suite 308
Waynesburg, PA 15370
Phone: 724-627-9802
Fax: 724-627-5066
M-W-Th: 8:30 am – 4:30 pm
Monongahela Office
316 West Main Street
Monongahela, PA 15063
Phone: 724-258-3365
Fax: 724-258-3368
M-Th-F: 8:30 am – 4:30 pm
Satellite Office
Hopewell Twp. Building
1700 Clark Boulevard
Aliquippa, PA 15001
2nd Monday of Month:
10 am - 4 pm