Dear Friend,
I am pleased to send you this edition of my electronic newsletter. These e-newsletters enable me to provide information about issues, events and activities in Harrisburg and around the 46th Senatorial District to you in a timely manner while saving postage costs.
If you find this e-newsletter useful, I invite you to visit my website www.senatorbartolotta.com for more information about your state government. You can also keep up to date through Facebook (www.facebook.com/senatorbartolotta) and Twitter (www.twitter.com/senbartolotta).
If you do not wish to receive these e-newsletters, please click the "unsubscribe" button at the bottom of the page.
Sincerely,
Camera Bartolotta
---
Proposal Would Improve DEP's Sediment and Erosion Permitting Process
The state Department of Environmental Protection (DEP) permitting process helps support the responsible development and protection of our natural resources. However, delays and inconsistencies in the review process for certain permits discourages the development of critical infrastructure projects and hurts our efforts to attract capital investment to Pennsylvania.
In particular, applicants for erosion and sediment control permits have experienced considerable delays. DEP's current policy for these permits states that the review process take less than 45 days, or 14 days if the applicant goes through an expensive and technical expedited process. However, even expedited reviews – where a company has employed a professional engineer to prepare the permit and therefore only requires a technical review by the department – currently may take in excess of 100 days.
In the near future, I plan to introduce legislation that would permanently establish DEP's erosion and sediment control permit policy in state law, which would elevate existing environmental safeguards and further provide accountability and transparency standards to the process.
More information regarding my legislation is available here.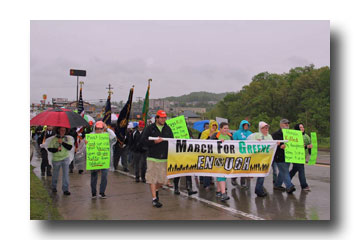 I deeply appreciate all of the community residents who joined us to participate in the "March for Greene" event to support recovering addicts, to stand united against the heroin epidemic and to raise awareness of substance abuse issues in our communities.
Legislation Introduced to Provide Services for Mothers Suffering from Postpartum Depression
Postpartum depression is a debilitating condition that can have severe health consequences for both the mother and her child. Last week, I introduced legislation along with Senator Judy Schwank that would ensure families who suffer from this condition have access to critical services to support healthy child development.
Assessments, tracking and early intervention services are already made available for infants with certain medical conditions, such as low birth weight or lead poisoning, as well as children born into potential unsafe settings, such as homeless families or living situations in which the mother is chemically dependent. Our legislation would add postpartum depression to the list of qualifying medical conditions to receive these services.
More information on the bill is available here.
| | |
| --- | --- |
| | As a member of the Board of Directors for the United Way of Washington County, I enjoyed time with donors, sponsors, partners, volunteers and supporters during a recent celebration luncheon. |
Legislative Update
A flurry of legislative action took place last week, such as the passage of a number of noteworthy proposals to prevent drunk driving, encourage organ and tissue donation and modernize Pennsylvania's Civil Service Act.
Some of the bills approved by the Senate and sent to the governor included:
Senate Bill 290, which would require most drivers convicted of a first-time drunk driving violation to use ignition interlocks for at least a year.
House Bill 944, which addresses the management of neighborhood improvement districts in the City of Philadelphia.
House Bill 1310, which provides privacy and protects the safety of individuals who call 911 to report crimes.
House Bill 1574, which expands Pennsylvania's Anti-hazing Law to include hazing done as a condition for initiation or admission into any organization.
Some of the bills approved by the Senate and sent to the House of Representatives included:
Senate Bill 1154, a measure that would streamline and modernize Pennsylvania's Civil Service Act to ensure vacancies are filled with qualified candidates in a timely manner.
House Bill 150, which creates a "Share the Road" registration plate for many passenger vehicles.
Senate Bill 180, which updates and revises state law relating to organ and tissue donations.
House Bill 608, which adds the term "precursor substances" to the list of chemicals that are illegal to possess if the possessor's intent is to illegally manufacture a controlled substance.
Senate Bill 1031, which allows for the appointment of independent counsel to investigate alleged wrongdoing by an Attorney General, employees of the Office of Attorney General, or chairman or treasurer of a political campaign of the Attorney General.
House Bill 1552, which provides for student-weighted basic education funding and for supplemental payment of basic education funding for the 2014-15 school year.
| | |
| --- | --- |
| I was proud to stand with Second Amendment advocates this week at a rally at the Capitol in support of our right to keep and bear arms. | |
State Grant Supports Public Safety Improvements
A state grant recently awarded in Washington County will help enhance public safety through improvements to traffic signals. The grant was awarded as part of the Pennsylvania Department of Transportation's "Green Light-Go" program.
A $70,900 grant for North Strabane Township to install emergency vehicle protection with ancillary equipment upgrades as necessary at the intersections of Route 19 and Demar Boulevard, Route 1023 and Demar Boulevard, Route 19 and Route 1025, Route 19 and Meadowbrook Drive, Route 19 and Route 1023, and Route 1023 and Route 1009.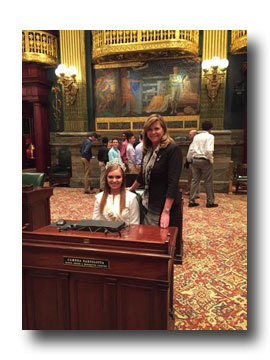 It was my honor to introduce the 2015 Bituminous Coal Queen, Ms. Katlyn Allison of Carmichaels, on the Senate floor.
Memorial Day Offers Time for Reflection, Gratitude
While most people look forward to Memorial Day as the unofficial start of summer, it is important to remember the real reason why we celebrate this holiday. On this solemn day, it's our duty to honor and remember those Americans who served their country and paid the ultimate sacrifice. We must recognize those who gave their lives so that we all can live freely, and we do so reverently, with great humility and thankfulness.
Memorial Day offers a perfect opportunity to voice our appreciation for the sacrifices made in the name of freedom and democracy. I hope all community residents have a safe and happy Memorial Day weekend!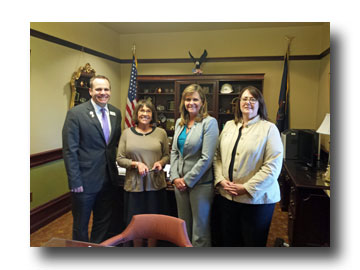 I enjoyed learning about programs to improve the lives of children during a meeting with members of Big Brothers Big Sisters. Also pictured: Tom Baker, Chief Community Affairs Officer, Big Brothers/Big Sisters of Greater Pittsburgh; Jan Glick, CEO, Big Brothers Big Sisters of Greater Pittsburgh; and Maddie Young, CEO, Big Brothers Big Sisters of the Capital Region.
Public Hearing in Beaver County Will Examine Heroin and Opioid Epidemic
The Center for Rural Pennsylvania will take a closer look at the heroin and opioid epidemic during a public hearing on June 2 at The Fez in Hopewell Township at 9:30 a.m. This will be the 10th hearing on the subject held over the past two years.
The hearing will include testimony from the medical community, law enforcement, schools, and drug and alcohol experts from throughout southwestern Pennsylvania. Additional information on the hearing is available here.
---
For more information on issues of importance to southwestern Pennsylvania, please visit my website at www.senatorbartolotta.com and connect with me on Facebook (www.facebook.com/senatorbartolotta) and Twitter (www.twitter.com/senbartolotta).