Dear Friend,
I am pleased to send you this edition of my electronic newsletter. These e-newsletters enable me to provide information about issues, events and activities in Harrisburg and around the 46th Senatorial District to you in a timely manner while saving postage costs.
If you find this e-newsletter useful, I invite you to visit my website www.senatorbartolotta.com for more information about your state government. You can also keep up to date through Facebook (www.facebook.com/senatorbartolotta) and Twitter (www.twitter.com/senbartolotta).
If you do not wish to receive these e-newsletters, please click the "unsubscribe" button at the bottom of the page.
Sincerely,
Camera Bartolotta
---
"March for Greene" Aims to Fight Back Against Drug Addiction Crisis
The heroin and opioid epidemic has touched numerous families throughout the region, leading to loss and heartbreak on an unimaginable scale. It is critical for communities to show support for recovering addicts, stand united against the addiction epidemic and raise awareness of the dangers of substance abuse.
On May 14, local churches, elected officials, civic groups and business owners will come together for the "March for Greene" awareness event to support those who suffer from addiction and to prevent more people from falling victim to substance abuse.
The event will include a march along Route 21 from the Greene County Airport to the fairgrounds, followed by a rally and remarks by Pennsylvania Department of Drug and Alcohol Programs Secretary Gary Tennis. Participants are asked to park at the fairgrounds beginning at 8 a.m. to be shuttled by bus to the airport prior to the start of the march at 10 a.m.
I hope you will consider participating in the day's events to show your support for victims of this serious problem. More information on the "March for Greene" is available online at www.marchforgreene.com.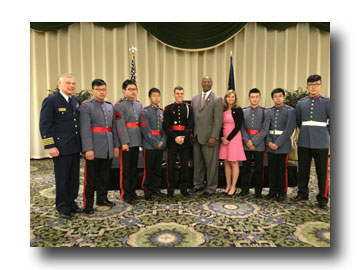 I appreciated the chance to meet members of the Carson Long Military Academy JROTC Color Guard and former Pittsburgh Steeler Mel Blount at the 2016 Commonwealth Prayer Breakfast. I was honored to serve as co-chair of this amazing event.
Legislation Would Limit Opioid Prescriptions in Emergency Rooms
One of the most effective ways we can prevent more people from falling victim to the opioid drug epidemic is by addressing prescription drug addiction and abuse and identifying individuals who could benefit from treatment. I recently joined Senators Gene Yaw and John Wozniak in introducing Senate Bill 1228, legislation that would limit discharge prescriptions by emergency room providers and provide a mechanism for health care providers to help refer patients for drug abuse treatment.
Last year, the Pennsylvania Medical Society, Department of Health and Department of Drug and Alcohol Programs adopted new guidelines for pain treatment in emergency rooms. The guidelines recommend appropriate treatment to relieve pain for emergency room patients and to identify individuals who may be abusing or addicted to prescription opioid drugs so that they can be referred to treatment.
These guidelines are a crucial step in fighting prescription drug abuse in the Commonwealth and it is important to ensure these guidelines are being implemented in all Pennsylvania emergency rooms.
| | |
| --- | --- |
| | Local students and advocates joined me in my Harrisburg office during Advocacy Day for the American Lung Association of Pennsylvania to discuss the Clean Indoor Air Act. Those pictured include: Jada Snowden and Shelby Powell from Western Beaver Junior/Senior High School; Kristina Celeste and Jennifer Cranmer from Hopewell Senior High; and Amanda Pinto, Prevention Specialist for The Prevention Network. |
New Penalties for Distracted Driving in Work Zones to Begin May 24
Distracted and aggressive drivers create serious threats for other motorists, but they often pose an even greater danger to construction workers in active work zones. In many cases, the lives of highway workers could be irreparably harmed – or even ended – by a driver who fails to observe traffic laws or isn't paying enough attention to the road.
Last year I sponsored bipartisan legislation with Sen. Costa that was signed into law to increase penalties for violations in work zones that result in the serious injury or death of a highway worker. The new penalties go into effect on May 24.
Under the new law, violators could face fines and penalties exceeding $1,000 for irresponsible driving in work zones. More serious offenses involving injuries to highway workers or emergency responders could result in a fine of up to $5,000 and a six-month suspension of the violator's driver's license. Drivers causing the death of a worker would pay a fine of up to $10,000 and surrender their license for one year.
It is my hope that these new penalties will serve as a strong deterrent to prevent irresponsible and dangerous behavior behind the wheel. I encourage everyone to observe the new law and drive responsibly in work zones to prevent a needless tragedy.
Center for Rural Pennsylvania to Host Hearing in Beaver County on Heroin Epidemic
Over the past two years, the Center for Rural Pennsylvania has hosted a series of hearings in communities throughout the state to take a closer look at the heroin epidemic and explore how communities are combating this problem. Beaver County will host one such hearing on June 2 at The Fez in Hopewell Township.
The hearing will include testimony from the medical community, law enforcement, schools, and drug and alcohol experts throughout southwestern Pennsylvania. I will share more details about this hearing in the coming weeks.
| | |
| --- | --- |
| I was proud to join nearly 100 volunteers who recently gave their time to help clean up the shelter and property at the Washington Area Humane Society during the Comcast Cares Day event. | |
Reminder: Coffee With Camera Events Scheduled in Washington County This Week
I look forward to hosting two Coffee With Camera events this week in Washington County. These informal conversations are a great venue to share thoughts and ideas about what is happening in Harrisburg and in our communities. Even if you are unable stay for the entire two-hour conversation, I encourage you to stop by for a few minutes to say hello.
On May 12, I will be at the Chartiers Township Community Center, 2013 Community Center Drive, Houston from 10 a.m. until noon.
On May 13, I will be at the Marianna Borough Building, 1 Procasky Road, Marianna from 10 a.m. until noon. I look forward to seeing you!
Growing Greener Grants Support Local Projects
Pennsylvania's Growing Greener program helps finance a wide variety of environmental projects, such as watershed protection and restoration, open space preservation, abandoned mine clean-up, land use and farmland preservation. The latest series of Growing Greener grants will support a number of worthwhile local projects, including:
Allegheny County Conservation District (Raccoon Creek Streambank Remediation)
Beaver County Conservation District (North Fork Little Beaver Stabilization/Habitat Project II)
Stream Restoration Incorporated (Raccoon Creek Bank & Buffer Project),
Western Pennsylvania Conservancy, SGL 223 (Whiteley Creek Riparian Planting)
Washington County Conservation District (Raccoon Creek Watershed Agricultural Best Management Practices)
Western Pennsylvania Conservancy (Blaine Township Park Restoration).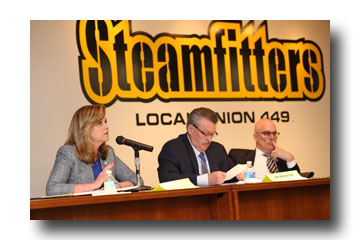 My colleague, Senator Jim Brewster, recently joined me for a panel discussion on the issue of addiction in Pennsylvania communities at an event hosted by the Coalition for Leadership, Education and Advocacy for Recovery (CLEAR).
---
For more information on issues of importance to southwestern Pennsylvania, please visit my website at www.senatorbartolotta.com and connect with me on Facebook (www.facebook.com/senatorbartolotta) and Twitter (www.twitter.com/senbartolotta).