Dear Friend,
I am pleased to send you this edition of my electronic newsletter. These e-newsletters enable me to provide information about issues, events and activities in Harrisburg and around the 46th Senatorial District to you in a timely manner while saving postage costs.
If you find this e-newsletter useful, I invite you to visit my website www.senatorbartolotta.com for more information about your state government. You can also keep up to date through Facebook (www.facebook.com/senatorbartolotta) and Twitter (www.twitter.com/senbartolotta).
If you do not wish to receive these e-newsletters, please click the "unsubscribe" button at the bottom of the page.
Sincerely,
Camera Bartolotta
---
Proposal Would Provide Early Intervention for Mothers Suffering from Postpartum Depression
Research from the American Psychological Association indicates that approximately 15 percent of new mothers suffer from postpartum depression, a severe and potentially long-lasting condition that can put the health of the mother and the baby at risk. In the near future, I plan to introduce legislation along with my colleague Senator Judy Schwank that would add postpartum depression to the list of qualifying conditions for assessments, tracking and early intervention services.
The state already monitors infants with certain medical conditions, as well as those born into potentially dangerous environments. For example, current law mandates monitoring and early intervention for children with dangerous levels of lead poisoning, low birth weight, or were cared for in a neonatal intensive care unit. Children born to chemically dependent mothers, homeless children and infants who suffer from abuse and neglect are also monitored. These services often play a crucial role in protecting the health and welfare of infants and young children.
By adding postpartum depression to the list of qualifying conditions, we hope to ensure infants and their mothers who suffer from this condition have access to the services that are already in place in our communities to support healthy child development.
Additional information about the proposal is available here.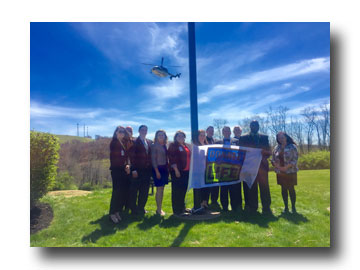 I appreciated the opportunity earlier this month to help raise a flag over Canonsburg Hospital in recognition of Donate Life Month. More information about organ donation is available at www.donatelifepa.org.
Medicinal Cannabis Bill Signed Into Law
It was an honor to appear with patients, advocates and lawmakers from both sides of the aisle recently to see Senate Bill 3 signed into law. The landmark legislation permits and regulates the prescription of medicinal cannabis for patients with qualifying medical conditions. The new law expands treatment options for a number of patients who suffer from debilitating medical conditions.
Key provisions of the law include:
The medicine will only be prescribed to patients with serious illnesses such as epilepsy, cancer, ALS, MS, Parkinson's disease, HIV/AIDS, PTSD and intractable pain, among others.
Individuals who have a qualifying medical condition and a prescription from a doctor will be issued an identification card to confirm their patient status.
Medicinal cannabis will only be available for use via pill, oil, topical or vaporization/nebulization; smoking is not permitted.
Requirements are included to ensure growers and processors are licensed and regulated. Medicinal cannabis patients are not permitted to grow their own cannabis plants.
More information on the new medicinal cannabis law is available here.
| | |
| --- | --- |
| | Passage of medicinal cannabis legislation is a major milestone for the patients who will soon be able to benefit from the relief this medicine offers. It was a pleasure to work with families and advocates over the past year and a half to ensure the new law meets the needs of patients. |
Construction Reimbursements to be Released to Schools
While much of the 2015-16 state budget battle was settled when Governor Wolf allowed a budget proposal to become law in March, a number of issues were left unresolved by his veto of amendments to the state's Fiscal Code. I am extremely pleased that Governor Wolf announced last week that he would allow a revised version of the Fiscal Code amendments to become law.
The Governor's action allows our local schools to finally receive nearly $10.2 billion in construction reimbursements that had been withheld during the impasse. I am very grateful that we can finally deliver this funding to our schools and can move forward toward a 2016-17 budget process that will hopefully be less difficult and contentious.
TV Show Features Behind-the-Scenes Capitol Tour
The latest edition of my "Focus on the 46th" TV program features a behind-the-scenes tour of the Capitol Building in Harrisburg. The tour includes a closer look at the Supreme Court chamber, the Senate and House chambers, and the Capitol Rotunda, as well as a rare glimpse and stunning look from the top of the Capitol Dome.
The entire program is available here.
| | |
| --- | --- |
| Thanks to all who came out to my "Coffee With Camera" event at the Burgettstown Senior Center. I enjoyed hearing your perspectives on the issues facing our community. | |
New "Coffee With Camera" Events Scheduled in Washington County
I have enjoyed speaking with members of the community at numerous "Coffee With Camera" events throughout the 46th Senatorial District over the past several weeks. I recently scheduled two additional events in Washington County to allow community residents to stop by and chat about the issues facing the region.
The events are free and open to the public, and light refreshments are available. I hope you can join me for one of these upcoming events.
Thursday, May 12, 2016 – 10 a.m. to 12 p.m.
Chartiers Township Community Center
2013 Community Center Drive, Houston, PA 15432

Friday, May 13, 2016 – 10 a.m. to 12 p.m.
Marianna Borough Building
1 Procasky Rd., Marianna, PA 15345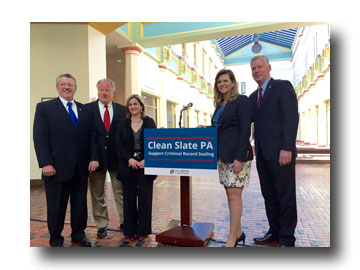 I was proud to join several of my colleagues in support of legislation that would automatically seal criminal records for minor offenses. The first-of-its-kind legislation would help expand job opportunities for individuals with a criminal record who have proven themselves to be rehabilitated.
Pennsylvania Marks 2016 Small Business Week
The Pennsylvania Department of Community & Economic Development (DCED) has announced that the contributions of small businesses will be recognized during Pennsylvania Small Business Week, held May 1 through 7. The commemoration will include a series of events and promotional activities designed to honor the contributions of small businesses and highlight resources that are available to them.
More information and a schedule of events is available at www.newPA.com/PASmallBiz.
Donation Project Benefits Greater Washington County Food Bank
Leadership Washington County is sponsoring a donation event in May to support the Greater Washington County Food Bank in its efforts to meet the nutritional needs of local families. The event encourages community residents to donate non-perishable food, thrift store items and monetary donations to help those in need.
Individuals who are interested in contributing to this cause can donate at any of the following locations through Sunday, May 15. For more information regarding donations, visit www.gwcfb.org.
Southwest Medical Center
1200 McKean Ave, Suite 107
Charleroi, PA 15022
M-F 9 a.m. – 4 p.m.

Southwest Medical Center
119 Wilson Rd
Bentleyville PA 15314
M-F 9 a.m. – 4 p.m.

Northwest Savings Bank
101 E. Lincoln Avenue
McDonald, PA 15057
M-Th 9 a.m. – 4 p.m.
Fri 9 a.m. – 6 p.m.

Northwest Savings Bank
260 Murtland Ave
Washington, PA 15301
M-Th 9 a.m. – 6 p.m.
Fri 9 a.m. – 7 p.m.
Sat 9 a.m. – 1 p.m.
---
For more information on issues of importance to southwestern Pennsylvania, please visit my website at www.senatorbartolotta.com and connect with me on Facebook (www.facebook.com/senatorbartolotta) and Twitter (www.twitter.com/senbartolotta).