Dear Friend,
I am pleased to send you this edition of my electronic newsletter. These e-newsletters enable me to provide information about issues, events and activities in Harrisburg and around the 46th Senatorial District to you in a timely manner while saving postage costs.
If you find this e-newsletter useful, I invite you to visit my website www.senatorbartolotta.com for more information about your state government. You can also keep up to date through Facebook (www.facebook.com/senatorbartolotta) and Twitter (www.twitter.com/senbartolotta).
If you do not wish to receive these e-newsletters, please click the "unsubscribe" button at the bottom of the page.
Sincerely,
Camera Bartolotta
---
Wolf Veto Withholds Millions in Reimbursements from Local School Districts
Although Governor Wolf allowed the state budget to become law last month, his veto of a related budget bill is still causing headaches for local schools. The Fiscal Code rejected by the Governor included funding that was promised to school districts to reimburse them for the state's share of the cost for repairs, construction and renovations. As a result, nearly $10.2 million in reimbursements are being withheld from schools in our area.

Pending school reimbursements that have been delayed include:

Beaver County
Aliquippa SD $754,726
Ambridge Area SD $697,719
Hopewell Area SD $901,241
South Side Area SD $165,073

Greene County
Carmichaels Area SD $848,449
Central Greene SD $452,929
Jefferson-Morgan SD $349,148
West Greene SD $414,621

Washington County
Bentworth SD $209,570
Brownsville Area SD $368,397
Burgettstown Area SD $285,132
California Area SD $366,556
Canon-McMillan SD $230,674
Charleroi SD $964,983
Chartiers-Houston SD $411,572
McGuffey SD $423,141
Ringgold SD $143,819
Trinity Area SD $832,880
Washington SD $1,365,617

In the 46th Senatorial District, only four school districts -- Southeastern Greene, Avella Area, Bethlehem-Center and Fort Cherry -- were not affected by the Governor's veto.

Our schools depend on this funding in order to balance their budgets, and there is no good reason for money to be held back.

That's why I voted for legislation this week to drive this money out to school districts and to ensure this funding is delivered as soon as possible to relieve yet another unnecessary source of stress on our schools created by the budget situation in Harrisburg.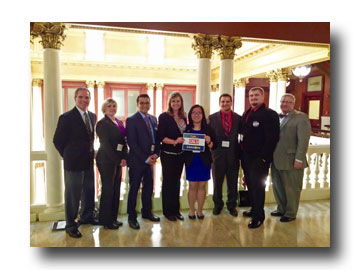 I enjoyed meeting faculty and students from California University of Pennsylvania during the State System of Higher Education's Advocacy Day. Pictured (L to R): Paul Burns, Assistant Director of Admissions; Dr. Jennifer Wilburn, Program Coordinator of Mechatronics Engineering Technology; Jose Negron, school newspaper editor; Sarah Youngdahl, student leader; Brendan Garay, Student Government President; Kaleb Rice, student from the Mechatronics program; and Bruce Barnhart, Acting Provost/Vice President for Academic Affairs.
Three Additional Coffee With Camera Events Scheduled in Greene, Washington Counties
I recently began hosting "Coffee With Camera" events throughout the region in order to give community residents a chance to discuss what is happening in our area in a relaxed and welcoming environment. I look forward to hosting two more of these events in Greene County on Friday, April 15.

The first event will be held at the Eva K. Bowlby Public Library, 311 N. West Street, Waynesburg from 10 a.m. until noon. The second event will be held at the Center Township Fire Hall, R.R. #21 Box 397, Rogersville from 2 p.m. until 4 p.m. Both events are free, and light refreshments will be available.

In addition, I will host another "Coffee With Camera" event in Washington County at the Burgettstown Senior Center, 200 Senior Way, Burgettstown from 10 a.m. until noon on April 21.

I encourage you to stop in and say hello!
| | |
| --- | --- |
| | I appreciated the chance to speak with community residents during my Coffee With Camera event in Washington on April 8. |
Great American Cleanup Of PA Video Contest Runs Through June 3
Keep Pennsylvania Beautiful is sponsoring a video contest to highlight grassroots efforts to help keep our communities clean and healthy. The video contest coincides with the Great American Cleanup of PA campaign, which is expected to feature thousands of volunteers working to build a cleaner environment to pass on to future generations.

Individuals or groups who are interested in participating in the video contest can send a 2-minute video that a Great American Cleanup of PA event to Keep Pennsylvania Beautiful. Participants should be sure to mention the Great American Cleanup of PA in their video. The videos will be featured on the Keep Pennsylvania Beautiful Facebook page, and winners will be announced on June 24 based on the number of "likes" each video receives.

Electronic submissions should be sent to slarson@keeppabeautiful.org with "GACofPA Video 2016" in the subject line. The deadline to submit a video is June 3. Additional contest details are available at www.gacofpa.org/VIDEOCONTEST.aspx.
| | |
| --- | --- |
| | The Aliquippa High School Boys Basketball team visited the Capitol Building in Harrisburg to be recognized for winning the PIAA Class Double A State Championship defeating Mastery Charter North. The "Quips" became the 13th boys team from the WPIAL to go through an entire season with a perfect record. |
Legislative Update – Senate Approves Medicinal Cannabis Bill
The Senate approved a number of noteworthy bills this week, including:
Senate Bill 3, which would allow Pennsylvanians with certain qualifying medical conditions to be prescribed medicinal cannabis. The Senate amended the House's version of the bill to help improve patient access. The bill returns to the House of Representatives for a vote on concurrence.
House Bill 794, legislation that would give most Pennsylvania counties the option to increase the current hotel tax from three percent to five percent in order to maximize local revenue generated by tourism.
Senate Bill 1114, which would amend the PA Sewage Facilities Act to allow for the use of alternative systems to improve land use planning.
Senate Bill 1155, which would authorize PennDOT to issue license plates giving special recognition to active members of the military, reserves and Pennsylvania National Guard.
House Bill 1319, which would create a tax-free savings account for individuals with disabilities to cover qualified expenses such as education, housing and transportation.
House Bill 1329, which would help family caregivers who support senior citizens. The legislation would ensure caregivers have the information and capability to provide care when a senior is released following a hospitalization.
House Bill 1589, which would amend the Fiscal Code to ensure school districts receive long-overdue construction reimbursements, among other provisions.
---
For more information on issues of importance to southwestern Pennsylvania, please visit my website at www.senatorbartolotta.com and connect with me on Facebook (www.facebook.com/senatorbartolotta) and Twitter (www.twitter.com/senbartolotta).
Offices
Harrisburg Office
Senate Box 203046
Harrisburg, PA 17120-3046
Phone: 717-787-1463
Fax: 717-772-2108
M-F: 8:30 am – 5:00 pm
SouthPointe District Office
135 Technology Drive
Suite 202
Canonsburg, PA 15317
Phone: 724-746-3762
Fax: 724-746-3797
M-F: 9 am – 5 pm
Greene County Office Building
93 East High Street
Suite 308
Waynesburg, PA 15370
Phone: 724-627-9802
Fax: 724-627-5066
M-W-Th: 8:30 am – 4:30 pm
Monongahela Office
316 West Main Street
Monongahela, PA 15063
Phone: 724-258-3365
Fax: 724-258-3368
M-Th-F: 8:30 am – 4:30 pm
Satellite Office
Hopewell Twp. Building
1700 Clark Boulevard
Aliquippa, PA 15001
2nd Monday of Month:
10 am - 4 pm