Dear Friend,
I am pleased to send you this edition of my electronic newsletter. These e-newsletters enable me to provide information about issues, events and activities in Harrisburg and around the 46th Senatorial District to you in a timely manner while saving postage costs.
If you find this e-newsletter useful, I invite you to visit my website www.senatorbartolotta.com for more information about your state government. You can also keep up to date through Facebook (www.facebook.com/senatorbartolotta) and Twitter (www.twitter.com/senbartolotta).
If you do not wish to receive these e-newsletters, please click the "unsubscribe" button at the bottom of the page.
Sincerely,
Camera Bartolotta
---
Budget Debate Continues in Harrisburg
At this point in time, it is unclear if the budget framework negotiated by legislative leaders and Governor Wolf will move forward. As negotiations and discussions continue, one thing is certain – we cannot afford any further delays. Our schools and service providers are suffering, and it is unacceptable that many of these institutions may be forced to close in the near future due to politics.
Over the past several months, I have supported numerous measures to bring this stalemate to an end, including balanced budget proposals, emergency funding plans and an attempted override of a gubernatorial veto. As I have said, pension reform must be part of any budget compromise.
Additionally, I remain steadfast in my commitment to voting against any broad-based taxes. That is why I have and continue to advocate for responsible spending and other sources of revenue in place of higher taxes on our working families.
As we move forward, I will continue to press my colleagues and the Governor for a resolution to end this crisis as quickly as possible and keep you updated on future activity.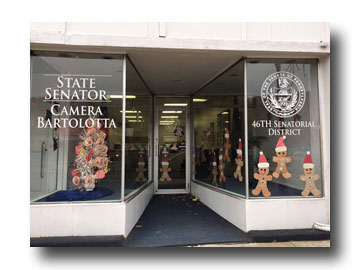 A special thanks goes out to Wee Care Day Care in Monongahela and to United Methodist Speers Nursery School for the wonderful holiday artwork on display at my Monongahela office. I wish all residents of the 46th Senatorial District a very Merry Christmas and a blessed holiday season!
Report Details Next Steps in the Fight Against Heroin
The rise in heroin addiction and drug abuse has reached epidemic proportions in many communities throughout Pennsylvania. In 2014 alone, more than 2,400 state residents died due to drug overdoses, and preliminary data suggests this number will be even higher this year. It is critical for lawmakers to address this growing epidemic and take steps to prevent more Pennsylvanians from falling victim to this dangerous menace.
Following a series of statewide public hearings held in July and August, the Center for Rural Pennsylvania recently helped put the problem in perspective through its report, "Heroin: Combating this Growing Epidemic in PA." The report centers on potential ways to prevent drug-related deaths, including education, integrated treatment options, access to overdose treatment and transitioning from incarceration.
Combating the spread of this terrible epidemic will require collaboration between government, law enforcement, health care providers and the private sector. The Pennsylvania State Police began carrying the overdose treatment drug naloxone in order to help respond as quickly as possible in an emergency situation. Capital BlueCross officials have also announced a $100,000 donation to further equip police across Pennsylvania with naloxone, and additional federal grants will help monitor prescription drug fraud and abuse which often lead to more serious addiction problems.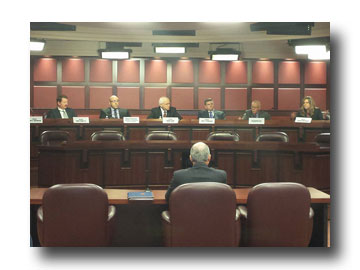 Members of the Senate Environmental Resources and Energy Committee, of which I serve as Vice Chair, recently heard testimony regarding potential improvements to the Sewage Facilities Act in order to safeguard public health.
TV Program Highlights Washington County Airport
Members of the Senate Aviation Caucus recently visited our region to tour the Washington County Airport and onsite businesses, including Friend Aircare, Dallas Airmotive, Washington Penn Plastics and Skyward Aviation. The event also included a roundtable discussion regarding the importance of the state's 117 general aviation airports. This tour and discussion are featured in the most recent edition of my "Focus on the 46th" TV program.
The program is available here.
Online Donations Now Accepted for Vets, Military Families
Following the launch of a new website for the Department of Military and Veterans Affairs, state residents can now offer donations online to support two of Pennsylvania's most successful programs assisting veterans and military families -- the Veterans' Trust Fund (VTF) and the Military Family Relief Assistance Program (MFRAP). Donations are now accepted via MasterCard, Visa, Discover or American Express online at www.donate.dmva.pa.gov.
The Veterans' Trust Fund issues grants to statewide charitable organizations that assist veterans, veterans' service organizations and county directors of veterans' affairs to assist veterans in need of shelter and necessities of living. More information can be found at www.vtf.pa.gov.
The Military Family Relief Assistance Program provides financial assistance, in the form of grants, to eligible Pennsylvania service members and their eligible family members. Eligible members must have a direct and immediate financial need as a result of circumstances beyond their control. The amount of a grant is based on documented financial need up to a maximum of $3,500. More information can be found at www.mfrap.pa.gov.
I enjoyed speaking with Major General James Joseph and members of the Pennsylvania National Guard during National Guard Day at the State Capitol Building.
Keeping Connected With the Community
Last week, I hosted a town hall meeting in Greene County to gather input from local citizens on the state budget and other issues of importance to our region. I appreciate hearing the questions and perspectives of community residents and having an opportunity to respond to these concerns.
If you would like to share your thoughts on state and local issues, the best way to reach me is through my website at www.senatorbartolotta.com or via email at cbartolotta@pasen.gov. I also provide updates on my social media accounts, including on Facebook at www.facebook.com/senatorbartolotta and Twitter www.twitter.com/senbartolotta. I also host regular telephone town hall meetings that give all residents a chance to participate in the discussion.
---
For more information on issues of importance to southwestern Pennsylvania, please visit my website at www.senatorbartolotta.com and connect with me on Facebook (www.facebook.com/senatorbartolotta) and Twitter (www.twitter.com/senbartolotta).

Offices
Harrisburg Office
Senate Box 203046
Harrisburg, PA 17120-3046
Phone: 717-787-1463
Fax: 717-772-2108
M-F: 8:30 am – 5:00 pm
SouthPointe District Office
135 Technology Drive
Suite 202
Canonsburg, PA 15317
Phone: 724-746-3762
Fax: 724-746-3797
M-F: 9 am – 5 pm
Greene County Office Building
93 East High Street
Suite 308
Waynesburg, PA 15370
Phone: 724-627-9802
Fax: 724-627-5066
M-W-Th: 8:30 am – 4:30 pm
Monongahela Office
316 West Main Street
Monongahela, PA 15063
Phone: 724-258-3365
Fax: 724-258-3368
M-Th-F: 8:30 am – 4:30 pm
Satellite Office
Hopewell Twp. Building
1700 Clark Boulevard
Aliquippa, PA 15001
2nd Monday of Month:
10 am - 4 pm