Dear Friend,
I am pleased to send you this edition of my electronic newsletter. These e-newsletters enable me to provide information about issues, events and activities in Harrisburg and around the 46th Senatorial District to you in a timely manner while saving postage costs.
If you find this e-newsletter useful, I invite you to visit my website www.senatorbartolotta.com for more information about your state government. You can also keep up to date through Facebook (www.facebook.com/senatorbartolotta) and Twitter (www.twitter.com/senbartolotta).
If you do not wish to receive these e-newsletters, please click the "unsubscribe" button at the bottom of the page.
Sincerely,
Camera Bartolotta
---
New Protections for Highway Workers Signed Into Law
Families of highway construction workers and emergency personnel live in constant fear of having their loved ones injured or killed by a distracted or aggressive driver. A new law I co-prime sponsored with Senate Democratic Leader Jay Costa will create stricter penalties for irresponsible driving in work zones to help deter dangerous driving behavior.
The new law establishes a three-tiered punishment system for violations. Violators will face fines and penalties exceeding $1,000 for irresponsible driving in work zones. More serious offenses involving injuries to highway workers or emergency responders will result in a fine of up to $5,000 and a six-month suspension of the violator's driver's license, while drivers who cause the death of a worker will pay a fine of up to $10,000 and surrender their license for one year.
For the purposes of the new law, the definition of "highway workers" was expanded to include emergency personnel, local government and municipal workers, members of the Pennsylvania State Police and local law enforcement community, and contractors or utility company workers.
The National Institute for Occupational Safety and Health reports that approximately 100 workers are killed and another 20,000 workers are injured every year in highway and street construction accidents. It is my hope that by strengthening the penalties for reckless drivers, we can help limit the dangers faced by the men and women who help maintain our vital infrastructure. The new law will take effect in six months.
---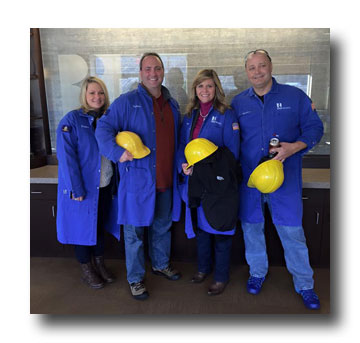 Senator McIlhinney and his staff joined me recently to tour a gas drilling rig in operation and capped wells at a finished site at Range Resources and MarkWest Energy Partners.
---
Senate Approves Legislation Authorizing Transportation Network Companies Statewide
In addition to creating new economic opportunities for drivers, innovative transportation network companies like Uber and Lyft have the potential to meet a variety of needs in communities throughout the state. The Senate recently approved legislation I introduced to ensure these companies can operate safely and responsibly in all 67 counties in Pennsylvania.
Transportation network companies are currently operating in some counties under temporary authority granted by the Pennsylvania Public Utility Commission. My legislation would create a framework that would allow these companies to operate on an ongoing basis in every county in the state. Additional consumer protections are included in the bill, including requirements for adequate insurance coverage for drivers and companies, as well as a strict prohibition against the use of drugs or alcohol by drivers using the digital network. Vehicle safety requirements and accident reporting would also be mandated under the bill.
Video of my remarks on the Senate floor regarding the bill are available here.
---
I enjoyed meeting community residents and kicking off the holiday season during Monongahela's annual "Light up the Night" event.
---
TV Program Features Sarris Candies in Canonsburg
The family-owned Sarris Chocolate Factory and Ice Cream Parlour in Canonsburg is a Pennsylvania landmark that covers an area the size of a full city block, with over 100 yards of chocolate, penny candy, ice cream and life-like plush toys. My tour of the facility is featured in this month's edition of my "Focus on the 46th" TV program.
Learn more about this incredible local business by watching my show here.
---
| | |
| --- | --- |
| | I was pleased to attend a recent meeting of the Daisy Girl Scout Troop 51945 in Washington. The girls earned their yellow petal (or badge), which stands for the part of the Girl Scout Law, "Friendly and Helpful." |
---
Resolution Urges Thorough Review of Refugee Security Features
In the past several weeks, one issue that has generated significant calls, emails and messages to my office is the Syrian refugee crisis and its impact on national security. I recently joined my Senate colleagues in urging President Obama, Governor Wolf and Congress to review existing security measures for states that are under consideration to receive refugees.
While we cannot ignore the plight of the hundreds of thousands of refugees who have risked their lives to flee the unspeakable horrors of the ongoing conflict in Syria, I believe every effort must be taken to ensure those who are applying for refugee status in Pennsylvania are doing so in good faith. Reviewing and improving existing security measures is a logical first step.
More information about the Resolution is available here.
---
| | |
| --- | --- |
| During a tour of the Residence at Hilltop, I was able to visit several very dear friends, including my former neighbor Betty Huzway. | |
---
For more information on issues of importance to southwestern Pennsylvania, please visit my website at www.senatorbartolotta.com and connect with me on Facebook (www.facebook.com/senatorbartolotta) and Twitter (www.twitter.com/senbartolotta).

Offices
Harrisburg Office
Senate Box 203046
Harrisburg, PA 17120-3046
Phone: 717-787-1463
Fax: 717-772-2108
M-F: 8:30 am – 5:00 pm
SouthPointe District Office
135 Technology Drive
Suite 202
Canonsburg, PA 15317
Phone: 724-746-3762
Fax: 724-746-3797
M-F: 9 am – 5 pm
Greene County Office Building
93 East High Street
Suite 308
Waynesburg, PA 15370
Phone: 724-627-9802
Fax: 724-627-5066
M-W-Th: 8:30 am – 4:30 pm
Monongahela Office
316 West Main Street
Monongahela, PA 15063
Phone: 724-258-3365
Fax: 724-258-3368
M-Th-F: 8:30 am – 4:30 pm
Satellite Office
Hopewell Twp. Building
1700 Clark Boulevard
Aliquippa, PA 15001
2nd Monday of Month:
10 am - 4 pm