Dear Friend,
I am pleased to send you this edition of my electronic newsletter. These e-newsletters enable me to provide information about issues, events and activities in Harrisburg and around the 46th Senatorial District to you in a timely manner while saving postage costs.
If you find this e-newsletter useful, I invite you to visit my website www.senatorbartolotta.com for more information about your state government. You can also keep up to date through Facebook (www.facebook.com/senatorbartolotta) and Twitter (www.twitter.com/senbartolotta).
If you do not wish to receive these e-newsletters, please click the "unsubscribe" button at the bottom of the page.
Sincerely,
Camera Bartolotta
---
Senate Sends Highway Worker Protection Bill to Governor's Desk
Distracted and aggressive driving creates extreme hazards for highway workers and emergency responders in active construction zones. The Senate gave final approval this week to bipartisan legislation I sponsored to better protect highway workers by enacting tougher penalties for irresponsible driving behaviors in work zones, sending the bill to the Governor's desk to be signed into law.
The bill would establish a three-tier punishment system for driving violations in work zones. Fines of up to $1,000 would be levied for aggressive or distracted driving in a work zone, while the most egregious offenses that lead to the death or injury of a highway worker would result in fines of up to $10,000 and suspension of driving privileges for up to a year.
The frequency of incidents in work zones is troubling, and highway workers and their families live in constant fear that the irresponsible actions of a distracted or aggressive driver will ultimately lead to a tragedy. By strengthening the penalties for reckless drivers, we can help limit the dangers faced by the men and women who maintain our vital infrastructure.
---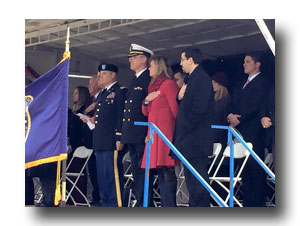 It was an honor to attend the National Cemetery of the Alleghenies Veterans Day Ceremony and pay tribute to all servicemen and women who have served our nation.
---
Hearing Explores Concerns Regarding EPA's Clean Power Plan
The federal Environmental Protection Agency recently unveiled the details of its new Clean Power Plan, which enacts severe new emission standards for existing power plants. The new regulations have raised serious concerns regarding the impact on energy prices for consumers and long-term viability of Pennsylvania's coal industry. The Senate and House Coal Caucuses recently hosted a joint hearing with representatives of the coal industry to further explore the potential effects of the plan and its impact in terms of demand, power generation and jobs.
Testifiers indicated that average wholesale energy rates are expected to increase by 12 to 20 percent under the plan, and the cost of compliance would likely exceed $8 billion annually. The new standards are also expected to force the closure of numerous coal-fired power plants across the country and negatively impact thousands of Pennsylvania jobs in the coal industry.
Video and testimony from the hearing is available here.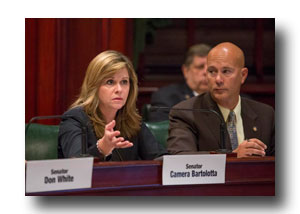 I questioned testifiers who raised numerous concerns regarding the EPA's proposed Clean Power Plan during a hearing with the Senate and House Coal Caucuses.
---
Tour of Washington County Airport Highlights Aviation Industry
The aviation industry is a critical component of Pennsylvania's economy, accounting for nearly $24 billion in total economic activity and supporting more than 300,000 jobs. I was pleased to join members of the Senate Aviation Caucus for a tour of the Washington County Airport this week to learn more about the importance of the state's 117 general aviation airports.
The tour was preceded by a roundtable discussion of some of the most critical issues facing Pennsylvania's general aviation airports. I appreciate members of the Senate Aviation Caucus who took the time to visit our area and participate in the tour and discussion, as well as the leaders and staff of the Washington County Airport and Redevelopment Authority for offering us an interesting and detailed glimpse of their operations.
| | |
| --- | --- |
| | This week's tour of the Washington County Airport with the Redevelopment Authority of Washington County (RAWC) and Airport officials offered a first-hand look at how focused investment, key policy decisions and public-private partnerships have helped to grow the facility and establish it as an economic engine in Washington County. Also pictured: Senator David G. Argall, Chairman of the Senate Aviation Caucus; William McGowen, Executive Director of RAWC; and Brianna Casciola of Skyward Aviation, a commercial airplane charter company based out of Washington County Airport. |
---
| | |
| --- | --- |
| I enjoyed meeting with representatives of the University of Pittsburgh Medical Center (UPMC) during their lobbying day at the State Capitol Building. Those pictured include: Joe Grennan, MD, Medical Director, UPMC Passavant; Maurielle Stacy, Dental Resident, Children's Hospital; Phoebe Handler, Registered Nurse, Magee-Women's Hospital; and Alison Archer, Nurse Clinician, UPMC Shadyside. | |
---
Legislation Would Encourage Investment in Film Industry
The creation of Pennsylvania's Film Production Tax Credit program in 2004 has helped attract a number of television and film projects over the past decade that have contributed significantly to the state's economy. I recently joined several of my colleagues in introducing legislation that would improve the existing program and encourage the development of the industry.
Senate Bill 1050 would make several changes to the existing program, including increasing the annual cap on tax credits from $60 million to $75 million, allowing the reissuance of tax credits that were awarded but went unused, and further providing for qualified expenses.
More information about the bill is available here.
---
| | |
| --- | --- |
| I was pleased to join the Montour Trail Council and PennDOT in opening the new SR50/SR980 realignment and Montour Trail Bridge project in Cecil Township, Washington County. I was also joined by (L-R): Rep. Jason Ortitay, Ned Williams of the Montour Trail Council and Cecil Township Supervisor Andy Schrader. | |
---
For more information on issues of importance to southwestern Pennsylvania, please visit my website at www.senatorbartolotta.com and connect with me on Facebook (www.facebook.com/senatorbartolotta) and Twitter (www.twitter.com/senbartolotta).

Offices
Harrisburg Office
Senate Box 203046
Harrisburg, PA 17120-3046
Phone: 717-787-1463
Fax: 717-772-2108
M-F: 8:30 am – 5:00 pm
SouthPointe District Office
135 Technology Drive
Suite 202
Canonsburg, PA 15317
Phone: 724-746-3762
Fax: 724-746-3797
M-F: 9 am – 5 pm
Greene County Office Building
93 East High Street
Suite 308
Waynesburg, PA 15370
Phone: 724-627-9802
Fax: 724-627-5066
M-W-Th: 8:30 am – 4:30 pm
Monongahela Office
316 West Main Street
Monongahela, PA 15063
Phone: 724-258-3365
Fax: 724-258-3368
M-Th-F: 8:30 am – 4:30 pm
Satellite Office
Hopewell Twp. Building
1700 Clark Boulevard
Aliquippa, PA 15001
2nd Monday of Month:
10 am - 4 pm