Dear Friend,
I am pleased to send you this edition of my electronic newsletter. These e-newsletters enable me to provide information about issues, events and activities in Harrisburg and around the 46th Senatorial District to you in a timely manner while saving postage costs.
If you find this e-newsletter useful, I invite you to visit my website www.senatorbartolotta.com for more information about your state government. You can also keep up to date through Facebook (www.facebook.com/senatorbartolotta) and Twitter (www.twitter.com/senbartolotta).
If you do not wish to receive these e-newsletters, please click the "unsubscribe" button at the bottom of the page.
Sincerely,
Camera Bartolotta
---
Lawmakers Make Another Effort to Fund Schools, Social Services
The current budget impasse continues to create a great deal of pain for schools and social services, threatening to curtail some of the most important services provided to local communities. I recently joined 29 other members of the Senate in supporting an effort to override the Governor's veto of emergency funding to ensure the basic necessities of government were funded while negotiations continue on a broader budget agreement. However, the effort failed to muster the two-thirds majority necessary for an override. It is beyond disappointing that this measure was defeated due solely to partisan politics.
In addition to threatening critical services like food banks and rape crisis centers, even school breakfast and lunch programs for low-income residents are at risk. For many students, free or reduced-cost school meals may be the only healthy food they get to eat in a given day. It is unconscionable that families in our area are threatened while our tax dollars continue to collect dust in the State Treasury.
For more on the budget impasse and the effort to fund basic government services, including my perspective, click here.
---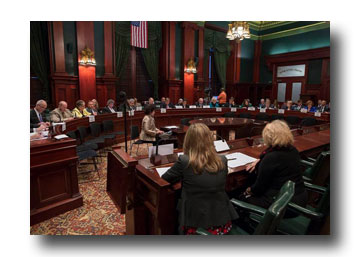 A joint hearing of the Senate and House Veterans Affairs and Emergency Preparedness committees studied a bill I introduced with Sen. Randy Vulakovich to ensure a larger number of disabled veterans are able to qualify for property tax exemptions. Senate Bill 1039 would expand eligibility to include any veteran with at least a 50 percent disability as determined by the U.S. Department of Veterans Affairs. Video and information from the hearing are available here.
---
House Committee Advances Proposal to Protect Highway Workers
In June, the Senate passed a bipartisan proposal I sponsored with Senate Democratic Leader Jay Costa to help minimize the risks facing highway workers and emergency personnel in work zones. The House Transportation Committee approved the bill last week, clearing the way for consideration by the full House of Representatives in the near future.
The consequences of distracted and aggressive driving in work zones can be catastrophic. Although lawmakers doubled fines in work zones several years ago in order to deter irresponsible driving behavior, these penalties have proven ineffective in preventing the number of accidents in active construction zones.
Senate Bill 887 would strengthen penalties and increase fines for distracted and aggressive driving in work zones. Violators could face fines and penalties exceeding $1,000 for irresponsible driving in work zones. More serious offenses involving injuries to highway workers or emergency responders could result in a fine of up to $5,000 and a six-month suspension of the violator's driver's license. Drivers causing the death of a worker would pay a fine of up to $10,000 and surrender their license for one year.
The bill would extend the definition of highway workers to include emergency personnel, local government and municipal workers, members of the Pennsylvania State Police and law enforcement community, contractors and utility company workers.
---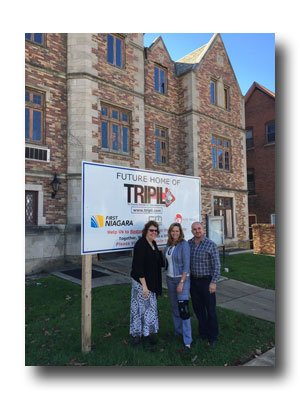 Earlier this week, I had an opportunity to tour the
former YWCA building in Washington County, which is currently under construction to complete renovations to be used for the Tri-County Patriots for Independent Living's (or TRIPIL) new facility.
---
Senate Panel Approves Bill to Authorize Transportation Network Companies
Popular transportation network companies like Uber and Lyft have opened up new transportation options for many Pennsylvanians. However, state laws have not kept up with the rapid pace of innovation. These companies are currently operating in many Pennsylvania counties and municipalities under a temporary two-year authority granted by the Pennsylvania Public Utility Commission, but a long-term solution is needed to ensure they can continue to operate after the expiration of that arrangement.
The Senate Consumer Protection and Professional Licensure Committee approved a proposal last week that I introduced to authorize transportation network companies to operate across the state and ensure these entities can transport people safely and responsibly for the foreseeable future.
The bill would ensure transportation network companies and drivers meet key requirements, such as maintaining proper insurance coverage, meeting vehicle safety requirements and reporting accidents. In addition, the bill would implement a zero tolerance policy on the use of drugs or alcohol for a driver using the digital network and prevents individuals convicted of certain crimes, including burglary, robbery and sexual offenses, from offering rideshare services.
Creating a permanent framework for these companies to operate could ultimately contribute to improved public safety for motorists and new economic opportunities for drivers.
---
| | |
| --- | --- |
| | A recent tour of Range Resources' McMaster well site with Senator Pat Stefano was extremely interesting and informative. I enjoyed discussing the current state of the industry and learning more about the challenges they face. |
---
LIHEAP Application Period Opens
Local families who are experiencing a heating emergency or are struggling to pay winter heating bills can apply now for the state's Low-Income Home Energy Assistance Program (LIHEAP). The program offers cash grants, sent directly to the utility company, to help pay heating bills, as well as crisis grants for households in immediate danger of being without heat due to heating emergencies such as a broken furnace, fuel shortage or utility service shutoff.
Community residents can apply for LIHEAP online at COMPASS. They can also contact their local county assistance office or call the LIHEAP hotline at 1-866-857-7095, Monday through Friday (individuals with hearing impairments may call the TDD number at 1-800-451-5886).
---
| | |
| --- | --- |
| Late last week, I met with the owners of the shuttered Monongahela Education Center (MEC) building to discuss the next steps in repurposing that property. It is critical to move forward on this issue as quickly as possible to return the property to productive use. | |
---
TV Program Highlights PA Trolley Museum
The most recent edition of my regular TV feature, "Focus on the 46th," highlights some of the interesting exhibits and attractions at the Pennsylvania Trolley Museum in Washington. The show includes a tour of the historic site and its collection of nearly 50 cars.
---
For more information on issues of importance to southwestern Pennsylvania, please visit my website at www.senatorbartolotta.com and connect with me on Facebook (www.facebook.com/senatorbartolotta) and Twitter (www.twitter.com/senbartolotta).

Offices
Harrisburg Office
Senate Box 203046
Harrisburg, PA 17120-3046
Phone: 717-787-1463
Fax: 717-772-2108
M-F: 8:30 am – 5:00 pm
SouthPointe District Office
135 Technology Drive
Suite 202
Canonsburg, PA 15317
Phone: 724-746-3762
Fax: 724-746-3797
M-F: 9 am – 5 pm
Greene County Office Building
93 East High Street
Suite 308
Waynesburg, PA 15370
Phone: 724-627-9802
Fax: 724-627-5066
M-W-Th: 8:30 am – 4:30 pm
Monongahela Office
316 West Main Street
Monongahela, PA 15063
Phone: 724-258-3365
Fax: 724-258-3368
M-Th-F: 8:30 am – 4:30 pm
Satellite Office
Hopewell Twp. Building
1700 Clark Boulevard
Aliquippa, PA 15001
2nd Monday of Month:
10 am - 4 pm