Dear Friend,
I am pleased to send you this edition of my electronic newsletter. These e-newsletters enable me to provide information about issues, events and activities in Harrisburg and around the 46th Senatorial District to you in a timely manner while saving postage costs.
If you find this e-newsletter useful, I invite you to visit my website www.senatorbartolotta.com for more information about your state government. You can also keep up to date through Facebook (www.facebook.com/senatorbartolotta) and Twitter (www.twitter.com/senbartolotta).
If you do not wish to receive these e-newsletters, please click the "unsubscribe" button at the bottom of the page.
Sincerely,
Camera Bartolotta
---
Legislation Seeks New Tax Exemptions for Disabled Veterans
Throughout Pennsylvania's history, our state has been blessed with an extraordinary number of men and women who were willing to answer the call to serve in the military. Many of these brave individuals sacrificed their health and wellbeing in order to protect our freedoms, and they live with a daily reminder of the cost of war in the form of permanent disabilities.
I recently joined the Chairman of the Senate Veterans Affairs and Emergency Preparedness Committee in an effort to ensure more disabled veterans would be eligible for property tax exemptions. Under current law, an honorably discharged veteran must be 100 percent disabled to receive a total exemption from paying property taxes. The new proposal we are sponsoring would provide tax exemptions to all disabled veterans based on their level of disability.
The proposal would require an amendment to the Pennsylvania Constitution, so it must be approved by the General Assembly in two consecutive legislative sessions and be approved by voter referendum.
Next week, lawmakers will have an opportunity to study this plan during a joint public hearing of the Senate and House Veterans Affairs and Emergency Preparedness committees. The hearing will be held at 10 a.m. on Monday, October 26. I am optimistic that other legislators will see the value in supporting this legislation and acknowledging the incredible efforts of veterans who were injured in the line of duty.
---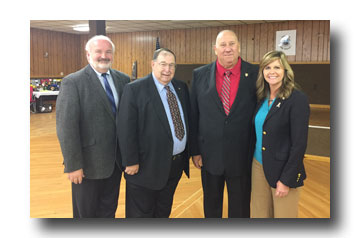 I appreciated the chance to celebrate the Greene County Association of Township Officials' 100th Anniversary Convention at the Jefferson Volunteer Fire Department. Also pictured: Dave Sanko (Executive Director of PA State Association of Township Supervisors – PSATS), Tim Horner (Presidents, PSATS) and Shirl Barnhardt (President-Elect of PSATS and Supervisor of Morgan Township, Greene County).
---
Governor Missed an Opportunity During Washington County Visit
Governor Wolf held a press event at the Washington County Courthouse last week to discuss the current budget impasse. I was hopeful the Governor would take this valuable opportunity to discuss our regional priorities and address some of the greatest areas of local concern with his budget proposal, including a job-killing severance tax and an income tax hike that would hit many middle class families throughout the region. I was deeply disappointed that the event turned out to be nothing more than promoting the same failed agenda he proposed in March.
Community residents deserve real answers regarding how the Governor's proposals would adversely affect our region. Treating the event as just another lecture was a missed opportunity for Governor Wolf. The full text of my statement in reaction to the Governor's visit is available here.
---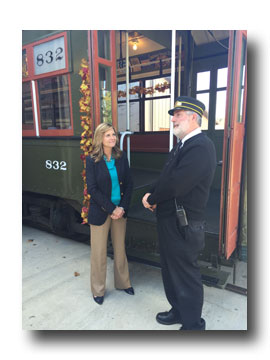 During filming for my upcoming TV feature, I enjoyed speaking with Pennsylvania Trolley Museum Executive Director Scott Becker and learning about the numerous attractions at the museum, including the trolley used in the filming of the popular children's show "Mr. Roger's Neighborhood."
---
Beaver County Satellite Office Ready to Assist Local Constituents
My district offices provide a wealth of information to community residents regarding state government services. My staff and I are able to help with a wide variety of questions and concerns, including problems related to state agencies or questions about government programs.
In addition to my regular offices in Canonsburg, Waynesburg and Monongahela, I also have a satellite office in Beaver County to meet the needs of community residents. This office is open the second Monday of each month from 10 a.m. to 4 p.m. in the Hopewell Township Building, located at 1700 Clark Blvd., Aliquippa, PA 15001.
If I can be of assistance on any issue pertaining to state government, I encourage you to contact me.
---
I enjoyed learning more about Sarris Candy Factory and Ice Cream Parlor in Canonsburg during a tour with third-generation chocolatier Athena Sarris Simms.
---
For more information on issues of importance to southwestern Pennsylvania, please visit my website at www.senatorbartolotta.com and connect with me on Facebook (www.facebook.com/senatorbartolotta) and Twitter (www.twitter.com/senbartolotta).

Offices
Harrisburg Office
Senate Box 203046
Harrisburg, PA 17120-3046
Phone: 717-787-1463
Fax: 717-772-2108
M-F: 8:30 am – 5:00 pm
SouthPointe District Office
135 Technology Drive
Suite 202
Canonsburg, PA 15317
Phone: 724-746-3762
Fax: 724-746-3797
M-F: 9 am – 5 pm
Greene County Office Building
93 East High Street
Suite 308
Waynesburg, PA 15370
Phone: 724-627-9802
Fax: 724-627-5066
M-W-Th: 8:30 am – 4:30 pm
Monongahela Office
316 West Main Street
Monongahela, PA 15063
Phone: 724-258-3365
Fax: 724-258-3368
M-Th-F: 8:30 am – 4:30 pm
Satellite Office
Hopewell Twp. Building
1700 Clark Boulevard
Aliquippa, PA 15001
2nd Monday of Month:
10 am - 4 pm