Dear Friend,
I am pleased to send you this edition of my electronic newsletter. These e-newsletters enable me to provide information about issues, events and activities in Harrisburg and around the 46th Senatorial District to you in a timely manner while saving postage costs.
If you find this e-newsletter useful, I invite you to visit my website www.senatorbartolotta.com for more information about your state government. You can also keep up to date through Facebook (www.facebook.com/senatorbartolotta) and Twitter (www.twitter.com/senbartolotta).
If you do not wish to receive these e-newsletters, please click the "unsubscribe" button at the bottom of the page.
Sincerely,
Camera Bartolotta
---
Treated Mine Water Proposal Signed Into Law
Last week, the General Assembly gave final approval to legislation I introduced to help reduce the amount of fresh water used in oil and gas drilling operations. I am pleased to report that the bill was signed into law by Governor Wolf this week.
The new law, Act 47 of 2015, clarifies liability issues pertaining to the use of treated mine water in oil and gas operations, an innovative process that reduces the need for fresh water in the natural gas extraction process. It will not change or weaken any existing environmental safeguards designed to protect public health or maintain water quality; it only clarifies parties that could be held responsible if the mine water is not treated or utilized properly.
The law opens the door for more companies to put this innovative and environmentally friendly process to good use, significantly reducing the withdrawal demands on Pennsylvania's rivers, lakes and streams.
It is imperative for lawmakers to support efforts to protect our environment and develop our natural resources safely and responsibly. I am thankful that my colleagues in the Senate and the House of Representatives joined me in supporting this inventive approach.
---
After seeing the devastation caused by a fire at the Washington City Mission facility several months ago, it was gratifying to participate in a ceremony recently to break ground on a new men's shelter and kitchen and dining facilities. Also pictured: Dean Gartland, President of the City Mission; Rep. Brandon Neuman; Washington County Commissioner Harlan Shober; Washington City Councilman Joe Manning; and members of the City Mission Board of Directors
---
Revised Wolf Tax Plan Defeated in the House
Following Governor Wolf's rejection of more than $11 billion in emergency funding for schools and social service providers last week, legislative leaders agreed to give the Governor an opportunity to make his case directly to individual lawmakers and present his revenue package for a final vote in the House and Senate. The House defeated the Governor's plan by a 127-73 margin this week, once again demonstrating the lack of broad support for his tax proposal.
While the Governor made a natural gas extraction tax the centerpiece of his campaign last year, the tax plan he presented to lawmakers drew an overwhelming majority of its revenues from a $3.5 billion Personal Income Tax hike. The structure of the Governor's plan serves as a unambiguous acknowledgement that we cannot solve all of the Commonwealth's ills with an extraction tax that will only chase away good-paying jobs and discourage economic development. I am hopeful that the defeat of this plan will finally help retire the myth perpetuated by the Wolf Administration that a severance tax is the key to breaking the budget stalemate.
The current impasse has gone on far too long. Vulnerable community residents are now facing the possibility of seeing critical services interrupted or curtailed, and numerous schools throughout the state are facing a financial crisis if the state misses another scheduled payment. The emergency funding measure vetoed by the Governor last week was the fourth attempt by lawmakers to fund critical services, and each time, these measures were blocked due to partisan politics.
It is time for Governor Wolf to concede the fact that we cannot solve this crisis by simply enacting massive unaffordable tax increases.
---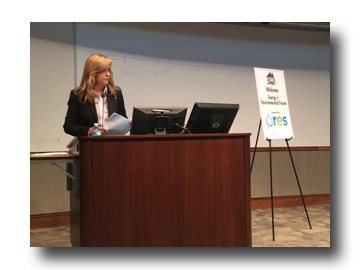 I appreciated the opportunity to speak about the budget stalemate, energy, taxes and jobs during the Pennsylvania Chamber of Business and Industry's quarterly event with the Department of Environmental Protection.
---
Tele-Town Hall Event Inspires Lively Discussion
My most recent telephone town hall event included a thoughtful and spirited debate regarding the state budget impasse and other critical issues facing communities throughout the region. I appreciate all of the community residents who asked questions, shared their thoughts and provided survey responses during this discussion.
In case you missed it, an audio link to the telephone town hall event is available here.
---
It was wonderful to see so many friends and new faces at the Greene County Senior Fair in Waynesburg.
---
Local Teacher Named a Finalist in School Grant Contest
Avella Area High School teacher Lori Lochran was recently named one of 15 finalists for the nationwide Dream Big Teacher Challenge, which encourages teachers to explore new ways to educate students and transform their communities. Ms. Lochran's proposal would create a vegetable garden to be run by students, with a portion of the food to be donated to local food banks.
Voting opened on October 1 and runs through the end of the month. Six winners will be announced in early December. To vote for Lori, visit www.thankamericasteachers.com and click Vote for a Teacher on the top right of the page.
---
| | |
| --- | --- |
| I enjoyed speaking with representatives of the local chapter of the Pennsylvania Federation of Business and Professional Women to discuss their advocacy efforts. Pictured left to right: Kathy Tirimacco, Kathleen Smith, Terri Startare, Patricia Milioto, and Jill Shook. | |
---
For more information on issues of importance to southwestern Pennsylvania, please visit my website at www.senatorbartolotta.com and connect with me on Facebook (www.facebook.com/senatorbartolotta) and Twitter (www.twitter.com/senbartolotta).

Offices
Harrisburg Office
Senate Box 203046
Harrisburg, PA 17120-3046
Phone: 717-787-1463
Fax: 717-772-2108
M-F: 8:30 am – 5:00 pm
SouthPointe District Office
135 Technology Drive
Suite 202
Canonsburg, PA 15317
Phone: 724-746-3762
Fax: 724-746-3797
M-F: 9 am – 5 pm
Greene County Office Building
93 East High Street
Suite 308
Waynesburg, PA 15370
Phone: 724-627-9802
Fax: 724-627-5066
M-W-Th: 8:30 am – 4:30 pm
Monongahela Office
316 West Main Street
Monongahela, PA 15063
Phone: 724-258-3365
Fax: 724-258-3368
M-Th-F: 8:30 am – 4:30 pm
Satellite Office
Hopewell Twp. Building
1700 Clark Boulevard
Aliquippa, PA 15001
2nd Monday of Month:
10 am - 4 pm