Dear Friend,
I am pleased to send you this edition of my electronic newsletter. These e-newsletters enable me to provide information about issues, events and activities in Harrisburg and around the 46th Senatorial District to you in a timely manner while saving postage costs.
If you find this e-newsletter useful, I invite you to visit my website www.senatorbartolotta.com for more information about your state government. You can also keep up to date through Facebook (www.facebook.com/senatorbartolotta) and Twitter (www.twitter.com/senbartolotta).
If you do not wish to receive these e-newsletters, please click the "unsubscribe" button at the bottom of the page.
Sincerely,
Camera Bartolotta
---
Legislature Passes Stop Gap Budget Measure Provides Funding to Schools, Human Services
Working to provide financial relief to school districts and social service agencies impacted by the prolonged budget impasse, I voted for a "stop gap" budget package which was recently approved by the Legislature and sent to the Governor.

The move is the latest effort by lawmakers to help schools, counties, municipalities, agencies and contractors that saw their state payments end on July 1 after Governor Wolf vetoed House Bill 1192 (the Fiscal Year 2015-16 general fund spending bill) on June 30 — almost immediately after its passage by the General Assembly.
Even though 70 percent of the spending items in the budget we passed were the same or greater than what he proposed in his own budget, Governor Wolf chose to veto the entire bill, cutting off funding for schools and human service agencies. Adopting the stop gap budget is the only option to keep these funds flowing for these vital services. Through his veto and failure to compromise, Governor Wolf has already denied more than a billion dollars in funding to Pennsylvania schools. Additionally, many agencies that serve our most vulnerable citizens are cutting critical services, laying off employees or taking out bank loans.

The three-bill package — Senate Bill 1000 (Stop Gap Appropriations Act), Senate Bill 1001 (Fiscal Code Budget Implementation) and House Bill 224 (Public School Code) — provides $11.2 billion in state allocations. This represents one-third (four months) of the state funding as authorized by HB 1192 with limited exceptions. The stop gap budget also allocates federal money Pennsylvania administers for schools and local governments.

This stop gap budget provides essential funding for many vital programs and services, including schools, domestic violence survivors, rape crisis centers and students who depend on PHEAA loans. Schools and human services agencies should not be used as pawns in the budget impasse. They need to continue being funded throughout this process. That is why I encourage the Governor to sign this legislation.
Follow these links to view videos of my reaction regarding the need for the stopgap budget:
Need for Stop Gap
Budget Impasse
Pension Reform
---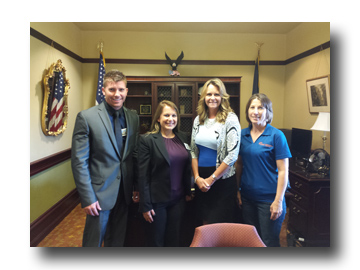 Senator Bartolotta takes part in "Recovery Advocacy Day" held at the State Capitol Building with members of the Washington County Drug and Alcohol Commission and Southwestern Pennsylvania Human Services, Inc.
---
Telephone Town Hall Event Tuesday, Sept. 29
Please join me for a live telephone town hall event on Tuesday, September 29, from 6-7 p.m. It is a great opportunity to talk about some of the most important issues facing Pennsylvania and individual communities throughout the area.
Residents of the 46th Senatorial District can register for the event by visiting my website or by clicking here.
The tele-town hall format encourages community residents to participate in a discussion on the issues without the need to travel. Participants can ask questions or simply remain on the line to listen to the discussion.
The event will also feature a live audio stream page that allows smartphone, tablet and computer users to listen in and submit questions for Senator Bartolotta online. A link to the live audio stream is available here.
---
Senator Bartolotta served as keynote speaker at the Carmichaels 9/11 Memorial Service and is pictured with Rep. Pam Snyder and members of the law enforcement community.
---
House Approves Measure Promoting Beneficial Use of Treated Mine Water

Earlier this week, the House of Representatives approved legislation I have sponsored to help reduce the use of fresh water in oil and gas drilling operations by promoting the use of treated mine water.

Senate Bill 875 clarifies legal liabilities associated with the use of treated mine water. The beneficial use of treated mine water holds the potential to reduce the usage of millions of gallons of fresh water in oil and gas operations. Clarifying liability issues will remove the biggest barrier to the use of this resource.

One of my priorities as Vice Chair of the Senate Environmental Resources and Energy Committee is supporting the development of our natural resources and industry in a way that is safe and responsible. This approach to preserving fresh water supplies is exactly the kind of innovation that we should promote.

Senate Bill 875 will be returned to the Senate for concurrence following a technical amendment before heading to the Governor for his signature.
---
LeMoyne Center Featured in "Focus on the 46th"
The October edition of my monthly cable television program titled "Focus on the 46th" features my visit to the LeMoyne Community Center located in Washington. The LeMoyne Community Center's mission is to develop, shape, define, and stabilize our community with education, arts, health, and recreational programs.
A significant reduction in crime in the local community has been attributed to the rise in the Center's programs, which engage students in out-of-school and after-school programs and activities. To learn more about the LeMoyne Community Center, tune in to the next edition of my monthly show: click here.
---
For more information on issues of importance to southwestern Pennsylvania, please visit my website at www.senatorbartolotta.com and connect with me on Facebook (www.facebook.com/senatorbartolotta) and Twitter (www.twitter.com/senbartolotta).

Offices
Harrisburg Office
Senate Box 203046
Harrisburg, PA 17120-3046
Phone: 717-787-1463
Fax: 717-772-2108
M-F: 8:30 am – 5:00 pm
SouthPointe District Office
135 Technology Drive
Suite 202
Canonsburg, PA 15317
Phone: 724-746-3762
Fax: 724-746-3797
M-F: 9 am – 5 pm
Greene County Office Building
93 East High Street
Suite 308
Waynesburg, PA 15370
Phone: 724-627-9802
Fax: 724-627-5066
M-W-Th: 8:30 am – 4:30 pm
Monongahela Office
316 West Main Street
Monongahela, PA 15063
Phone: 724-258-3365
Fax: 724-258-3368
M-Th-F: 8:30 am – 4:30 pm
Satellite Office
Hopewell Twp. Building
1700 Clark Boulevard
Aliquippa, PA 15001
2nd Monday of Month:
10 am - 4 pm