Dear Friend,
I am pleased to send you this edition of my electronic newsletter. These e-newsletters enable me to provide information about issues, events and activities in Harrisburg and around the 46th Senatorial District to you in a timely manner while saving postage costs.
If you find this e-newsletter useful, I invite you to visit my website www.senatorbartolotta.com for more information about your state government. You can also keep up to date through Facebook (www.facebook.com/senatorbartolotta) and Twitter (www.twitter.com/senbartolotta).
If you do not wish to receive these e-newsletters, please click the "unsubscribe" button at the bottom of the page.
Sincerely,
Camera Bartolotta
---
Committee Approves Postpartum Depression Proposal
It is estimated that more than one in seven new mothers experience postpartum depression (PPD), a condition that can have negative consequences on the health and well-being of mothers and their children. The Senate Public Health and Welfare Committee approved legislation this week that I sponsored to extend early intervention services to newborn and infant children of mothers affected by PPD.
The state already has a program in place to monitor infants with certain medical conditions, such as low birth weight or lead poisoning, as well as those born into potentially dangerous environments, including children born to chemically dependent mothers, homeless children and infants who suffer from abuse and neglect.
Senate Bill 1269 would add PPD to the list of conditions that qualify for assessments, tracking and early intervention services.
The bill was sent to the full Senate for consideration.
---
I enjoyed learning about the wonderful things that are happening at Charleroi Area High School during an event to highlight the work accomplished by the district.
---
Telephone Town Hall Will Focus on Local Impacts of Opioid Addiction Crisis
Addressing the heroin and opioid addiction crisis has been a priority for me in the Senate, and a number of other lawmakers have joined the effort to improve and expand treatment options. In order to gather local perspectives on the issue, the Senate Republican Caucus is sponsoring a series of telephone town halls to examine how the problem is impacting families and discuss potential solutions.
The southwestern Pennsylvania telephone town hall is scheduled for October 17 at 6:30 p.m. I encourage community residents to call in and share their stories and ask questions about the best ways to move forward. Additional information and sign-up info is available online at http://www.acommonwealthcrisis.com/. You can also sign up by texting TALKHEROIN to 828282.
Senator Gene Yaw recently joined me to record a short video about the legislative response to this crisis and the upcoming telephone town hall. The video is available here.
---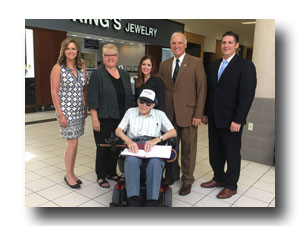 As co-host of the Washington Senior Expo, I enjoyed talking with many community residents – including John Baumgarten, who recently celebrated his 100th birthday!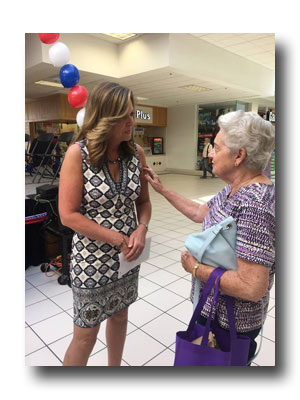 ---
Legislation Introduced to Replace Punitive E-Cigarette Tax
The "floor tax" on the existing inventory of electronic cigarettes and vaping products has created a great deal of concern for business owners and could potentially put some retailers out of business. This week, I introduced a proposal that would repeal this tax and replace it with an alternative that is more consistent with the tax rates charged by other states and protects our small business owners.
More details about the bill are available here.
---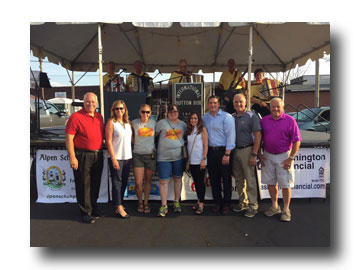 I enjoyed speaking with friends both new and old during Canonsburg's Oktoberfest celebration.
---
Ken Griffey Sr. and Jr. Drive to be Unveiled in Donora This Weekend
Major League Baseball Hall of Famers and Donora natives Ken Griffey Sr. and Jr. are two of the region's most decorated professional athletes. I sponsored legislation that was approved by the General Assembly in July that dedicates a portion of State Route 1030 in Donora Borough in honor of these two stars.
New signs dedicating Ken Griffey Sr. & Jr. Drive (formerly Galiffa Drive) will be unveiled during a special ceremony on October 2 at noon at the MIDA property near the intersection of Ken Griffey Sr & Jr Drive and First Street in Donora Borough.
---
NFIB Announces Guardian of Small Business Award
The National Federation of Independent Business (NFIB) is one of the nation's leading advocacy groups regarding issues that impact small businesses. I was honored to receive the group's Guardian of Small Business Award, which was awarded based on my voting record in support of small businesses.
As a small business owner, I recognize the importance of these businesses to our economy, accounting for more than half of all Pennsylvania jobs. Lawmakers need to promote policies that support innovation and entrepreneurship and allow smaller companies to survive and thrive, and I will continue to support legislation that furthers these goals.
---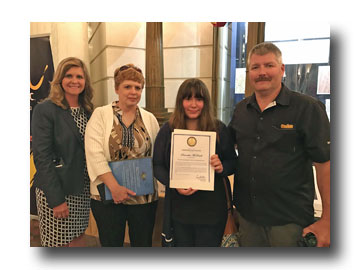 Congratulations to Washington resident Samantha McDowell for her winning art piece at The Universal Language art contest.
---
Rural Volunteer Firefighter Grants Awarded
Several volunteer fire companies in our area have been awarded state grants from the Department of Conservation and Natural Resources. The grants are distributed to firefighting forces in rural areas or communities with fewer than 10,000 residents.
Local recipients include:
Jefferson Volunteer Fire Company, Jefferson, Greene County,
Jefferson Township Volunteer Fire Department, Burgettstown, Washington County,
Taylorstown Volunteer Fire Company, Taylorstown, Washington County,
West Finley Volunteer Fire Company, West Finley, Washington County.
---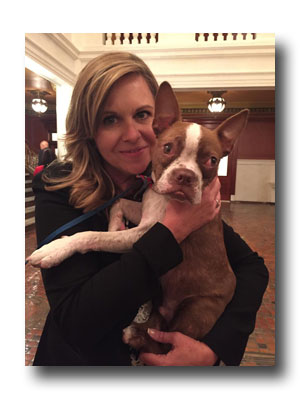 Following a rally in support of stricter animal cruelty laws, I had a chance to meet Libre, a young Boston terrier who was rescued from a breeder after being left to die. The case inspired the creation of Libre's Law, legislation that would hold animal abusers accountable for their crimes.
---
For more information on issues of importance to southwestern Pennsylvania, please visit my website at www.senatorbartolotta.com and connect with me on Facebook (www.facebook.com/senatorbartolotta) and Twitter (www.twitter.com/senbartolotta).
Offices
Harrisburg Office
Senate Box 203046
Harrisburg, PA 17120-3046
Phone: 717-787-1463
Fax: 717-772-2108
M-F: 8:30 am – 5:00 pm
SouthPointe District Office
135 Technology Drive
Suite 202
Canonsburg, PA 15317
Phone: 724-746-3762
Fax: 724-746-3797
M-F: 9 am – 5 pm
Greene County Office Building
93 East High Street
Suite 308
Waynesburg, PA 15370
Phone: 724-627-9802
Fax: 724-627-5066
M-W-Th: 8:30 am – 4:30 pm
Monongahela Office
316 West Main Street
Monongahela, PA 15063
Phone: 724-258-3365
Fax: 724-258-3368
M-Th-F: 8:30 am – 4:30 pm
Satellite Office
Hopewell Twp. Building
1700 Clark Boulevard
Aliquippa, PA 15001
2nd Monday of Month:
10 am - 4 pm